In 1956 when IBM introduced the first iteration technology, it could only hold 5MB worth of data, and a hard drive as then was as large a two household refrigerators. However, with advancement in technology and innovativeness, hard drives with greater storage capacity, smaller sizes, performance, and flexibility are available to us.
Nevertheless, having a copy of your personal or business data backed up safely in a hard drive is a good thing to do, but knowing the right hard drive that can give you the needed storage space, flexibility, and performance is a hard nut to crack. Therefore, we'll outline and discussed the top 5 largest external hard drives to help you make the right choice.
Top 5 Largest External Hard Drives That You Don't Want to Miss Out
#1. Samsung 16TB SSD
Company Name: Samsung
Specifications: Samsung is an outstanding hard drive when compared to other big names like Seagate, Western Digital, Transcend and Synology. Samsung 16TB SSD is the world largest hard drive that's specifically designed for business enterprises. It has 48 layers of 3-bit per cell and can hold lifetime pictures.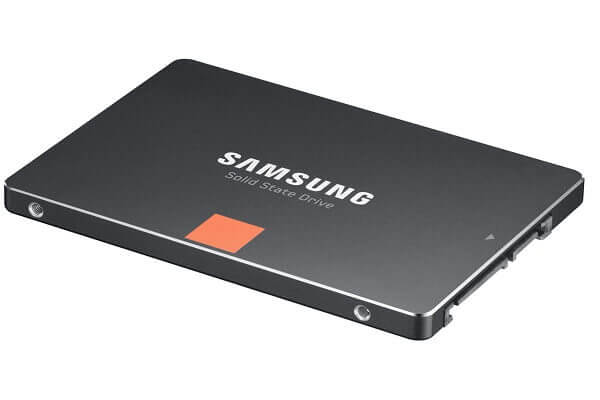 Reviews: The performance of Samsung 16TB SSD is rated at 2,000,000 IOPS.
Price: The current price for this hard drive is expected to vary with regards to stores, but it will cost $5000 to $7000 to purchase.
Media websites that recommend it: CNET
#2. Transcend 1TB Military-Grade Shock Resistance
Company Name: Transcend
Specifications: The Transcend 1TB Military-Grade Shock Resistance is the most portable and large external hard drive that was designed to equal the US Military drop test standard. It's specially designed for those who travel regularly with their hard drive, and those who are susceptible to shocks while using their hard drives. You can drag and drop files on it, and it supports macOS, Linux, and Windows operating systems.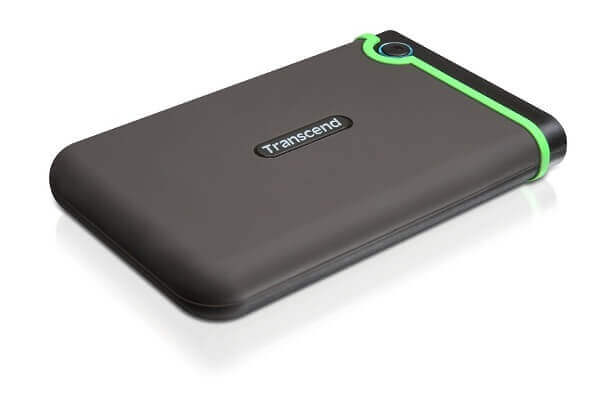 Reviews: The Transcend 1TB is durable, portable, shock resistant, and has a one-touch auto-backup button.
Price: It's sold at the price of $69.97 on Amazon.
Media websites that recommend it: TechRadar
#3. Synology 2 Bay NAS DiskStation DS218+
Company Name: Synology
Specifications: The Synology Disk Station DS214+ is designed for new startups and established businesses, and to support Windows, Mac, and computers running other operating systems. This hard drive is a 2-bay NAS server with the capacity of 10TB. The storage space is expandable by downloading Synology's cloud station software.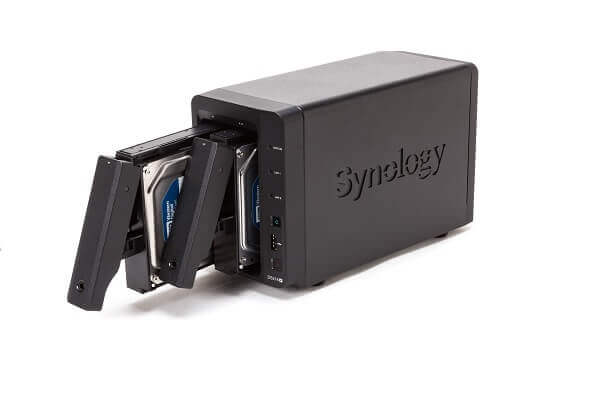 Reviews: It's versatile, and has a world-class interface with different complementary mobile apps.
Price: $298.00 as listed on Amazon.
Media websites that recommend it: GeekDaily
#4. Western Digital My Passport for Mac
Company Name: Western Digital Company
Specifications: This versatile and cheap external hard drive is the best way to keep your data safe without breaking your piggy bank. Although it's cheap, it still supports Windows and Mac computers, and is available in single, maximum capacity of 4TB, dual drives with high-speed performance, cloud backup with Dropbox, and have other essential features.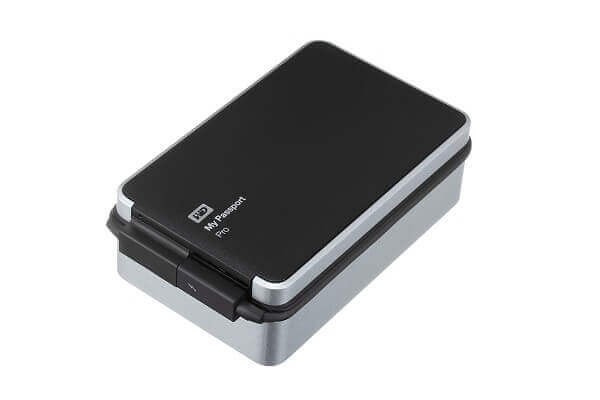 Reviews: Fast data transfer rate, multiple data management options, and universal connectivity.
Price: $99.99 for 4TB as listed on Amazon.
Media websites that recommend it: TechRadar
#5. Seagate Backup Plus Slim for Mac
Company Name: Seagate
Specifications: The Seagate Backup Plus is an external hard drive that provides you with a data transfer rate of 4.8GB/sec via USB 3.0. This means you can back up your entire 1TB Mac hard drive in less than 4 minutes. Yes, it's as fast as that!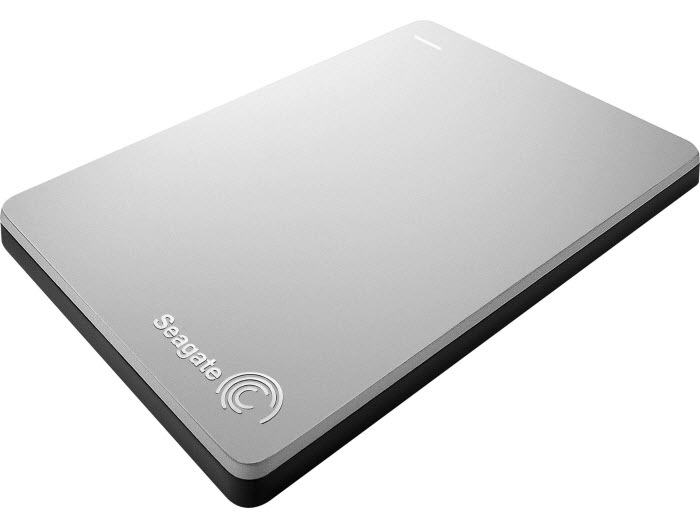 Reviews: The performance of Seagate Backup Plus is exceptional especially with USB 3.0. It's highly affordable, portable and compatible with Time Machine.
Price: $63.99 for 2TB as listed on Amazon.
Media websites that recommend it: PCMag
Nevertheless, it's important to have a good backup of your data in a strong external hard drive, but what if some of the data backed up in your hard drive get missing? If you are in this case, no worries! You can easily get back the missing files using an external hard drive recovery tool.
How to Recover Lost or Deleted Files from External Hard Drive
AnyRecover is the way to go when the data stored on your external hard drive is missing. You can recover every lost data and deleted files as easy as recounting the alphabets. With a 98% recovery rate and in-depth/unique data recovery algorithm, AnyRecover can fetch out every lost or deleted file within minutes.

5,200,000 Downloads
Let AnyRecover Get Back Deleted Files Easily
Effectively and completely recover all lost or deleted photos, videos, audio, documents, archives, emails, etc.

Support all-inclusive data recovery from external hard drive, memory card, camera, flash drive, recycle bin, etc.

Provide recovery for all sorts of data loss, like virus attack, PC crash, lost partition, formatted drive, etc.

Provide deep recovery to get back as many as deleted or lost files without hassle.

Advantages compared to other recovery tool: easy to use, fast to run, high recovery rate, recover unlimited data, etc.
Steps to Recover Deleted Files from External Hard Drive
Step 1. Download, install and launch AnyRecover on your PC. Connect your external hard drive to your computer. Choose your external hard drive you want to recover data from.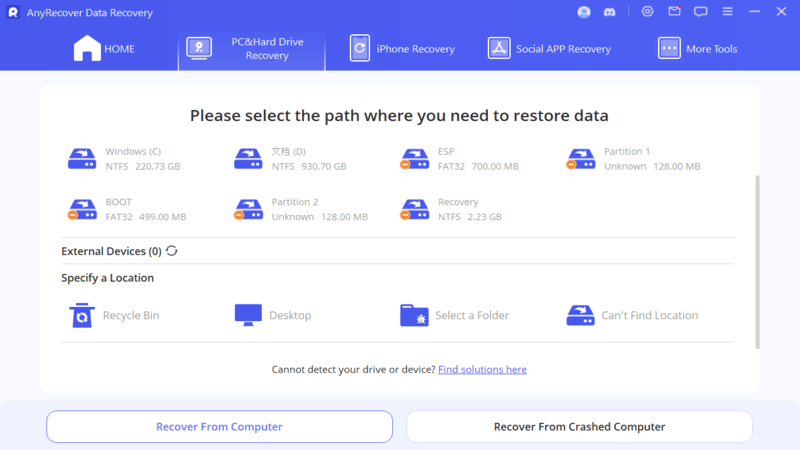 Step 2. After the location is selected, hit "Start" button to start the scanning process.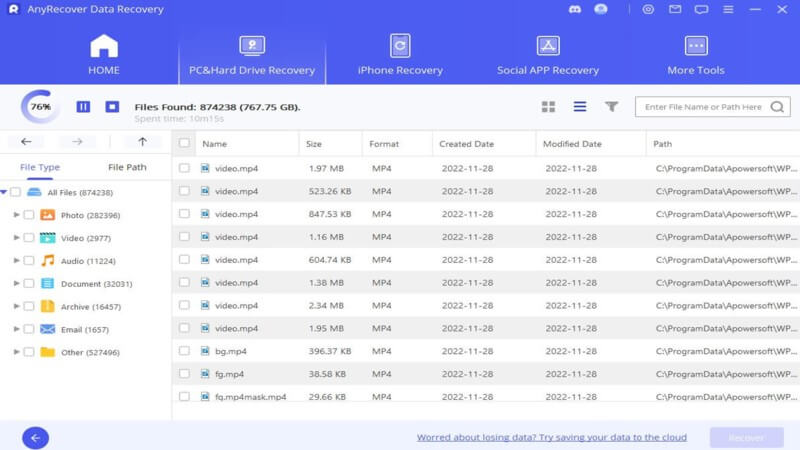 Step 3. After scanning, you are allowed to preview the files. Select the files you want to recover and click "Recover" to retrieve the selected files.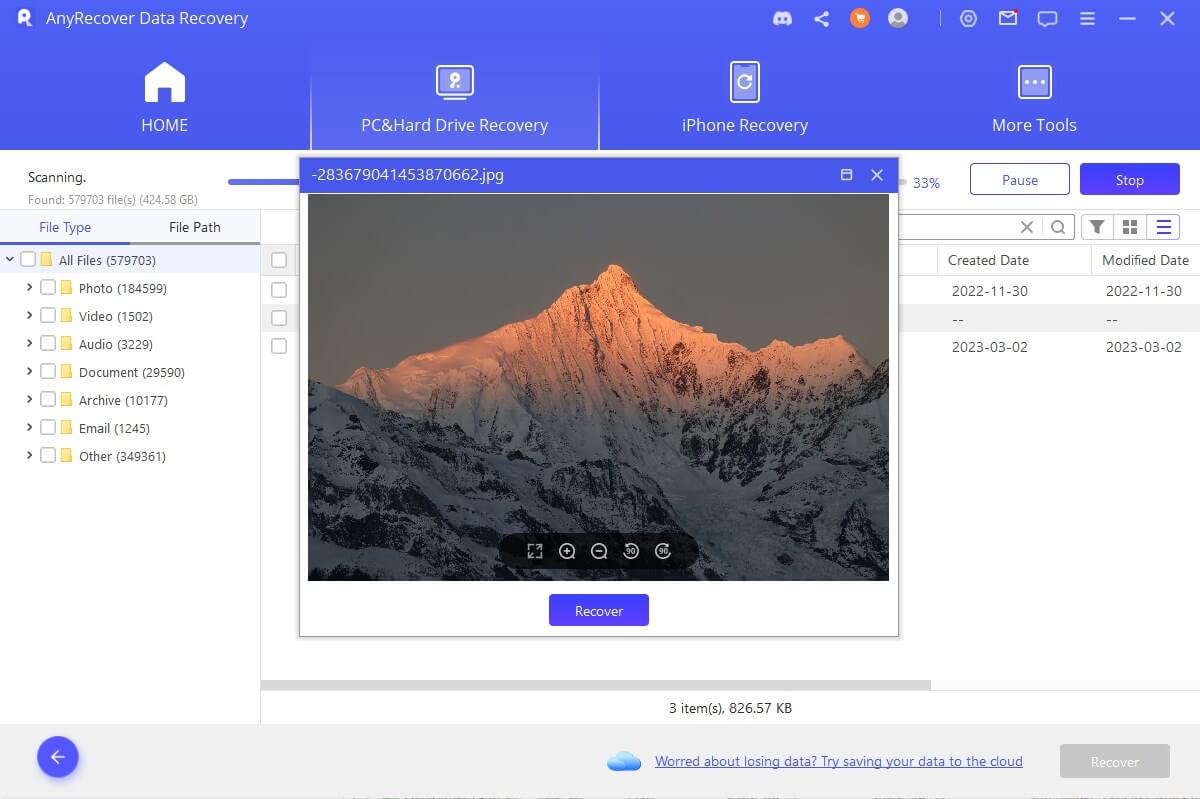 Why not have AnyRecover to try? It's totally free right now! Don't be hesitate, download AnyRecover on your computer and click here to get the license for free.