Data storage capacity is an important aspect of every digital device in this modern edge of technology. Among the different types of data storage tools and drives that are usually helpful to enhance the data storage capacity, TF card wins plenty of users for its smart features.  We'll introduce more in this article.
Despite their convenience, data is not always secure on data storage devices. So the data stored on a TF card is also vulnerable and can be get deleted by mistake. If you are a victim of TF card data loss, then this article is also going to teach you how to recover lost data from TF card.
1
Everything You Should Know about TF Card
Well, many people are asking the question "What is TF card?" Put it simply, TF card or TransFlash card is also known as Micros SD card, it was initially a product of SanDisk and Motorola that was introduced in year 2004. It's the smallest memory card ever that can store data digital data.
TF card is widely used in our everyday life. The common use of TF card is in smartphones, people use TF cards to enhance the data storage capacity of their smartphones and it's an affordable way to store more data. The other devices are digital cameras, digital media players, dash cameras and GPS devices.
Let's have a look at some of the questions people frequently ask to fully understand TF card.
1

What's the Difference between TF and SD Card?

TF card is basically a kind of SD card. Both of them are used for storing data in digital devices. it was later acquired by the SD association later that's why it's known as MicroSD card.

The most obvious difference between SD card and TF card is the appearance and size. Generally SD card measures at 32mm x 24mm x 1.4mm. Whereas TF card is based on the latest technology and it's smaller in size at only 15mm x 11mm x 1mm.
2

How does TF Card Works?

A TF card usually works with an SD adapter, you can insert it into an SD card reader and it will work as a memory card. You can use it with any digital device or multimedia that comes with an SD card slot.
3

How to format a TF card?

Format A TF Card in Microsoft Windows

Insert your TF card into a card reader and connect it to the computer.

Open My Computer or This PC if you are using Windows 11/10 and right-click on your TF card in removable device section.

From the list of options click on Format and a new options window will appear from there you have to click on "Start" button and wait for few seconds. Your TF card will be formatted within few seconds.

Format a TF card in Mac

Connect your TF card to your Mac using an external card reader or adaptor.

Now, launch Disk Utility Form Application Folder>Utilities Folder.

Once Disk Utilities are launched, now look for your TF card in the left pane of the window and select TF card.

Then, click on Erase tab.

You can select your preferred format from the menu, then click Erase.
2
Best Way to Recover Lost Data from TF Card
As we have already discussed that both SD card and TF cards are used to store data and expand the storage capacity. Furthermore, just like SD cards, there are chances that TF cards will encounter data loss due to accidental deletion, card being formatted without backup or other reasons. In such a case, you need a professional TF card data recovery tool. And the best one I recommend is iMyFone AnyRecover, which adopts advanced data recovery algorithms to scan and look for your lost files, and then recover them all.

1,000,000 + Downloads
Outstanding features of AnyRecover TF Card Reader Recovery Tool
It supports various types of files including pictures documents, videos, audios, zip archives, and emails.
It can recover data from different data storage devices such as internal hard disk, USB drive, external hard drive, digital camera, SD card and TF card as well.
AnyRecover can recover all of your lost data due to system crash, virus infection, emptied recycle bin, formatted device, etc.
It's 100% safe and easy to use, anyone can recover lost data on their own.
AnyRecover can work on both Windows (even Windows 11) and Mac devices: Mac OS X 10.9 - Mac OS X 10.15 and Windows 10/8/8.1/7/XP.
Steps to Perform TF Card Recovery Using AnyRecover
Step 1.  Insert TF card into an SD card reader and connect it to the computer through the USB port.
Step 2.  Launch AnyRecover on your PC and select your TF card in a section named "External Removable Devices", then click on the "Start" button.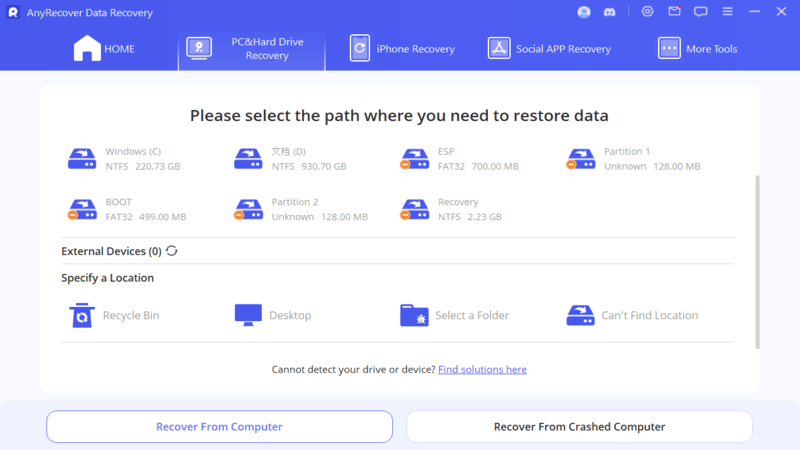 Step 3. The software will scan your TF card and find out all the lost data, this process takes some time, so be calm and wait for the results. You can also pause or stop scanning.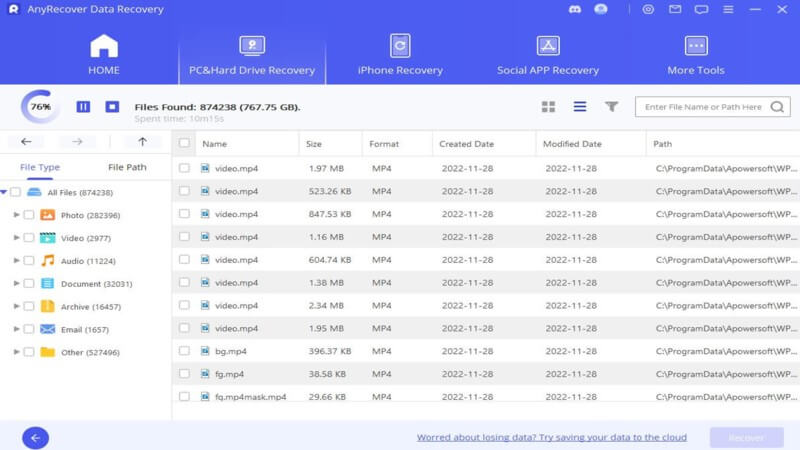 Step 4. When the scanning gets completed, preview your important file and click on the Recover button, now your lost data if back.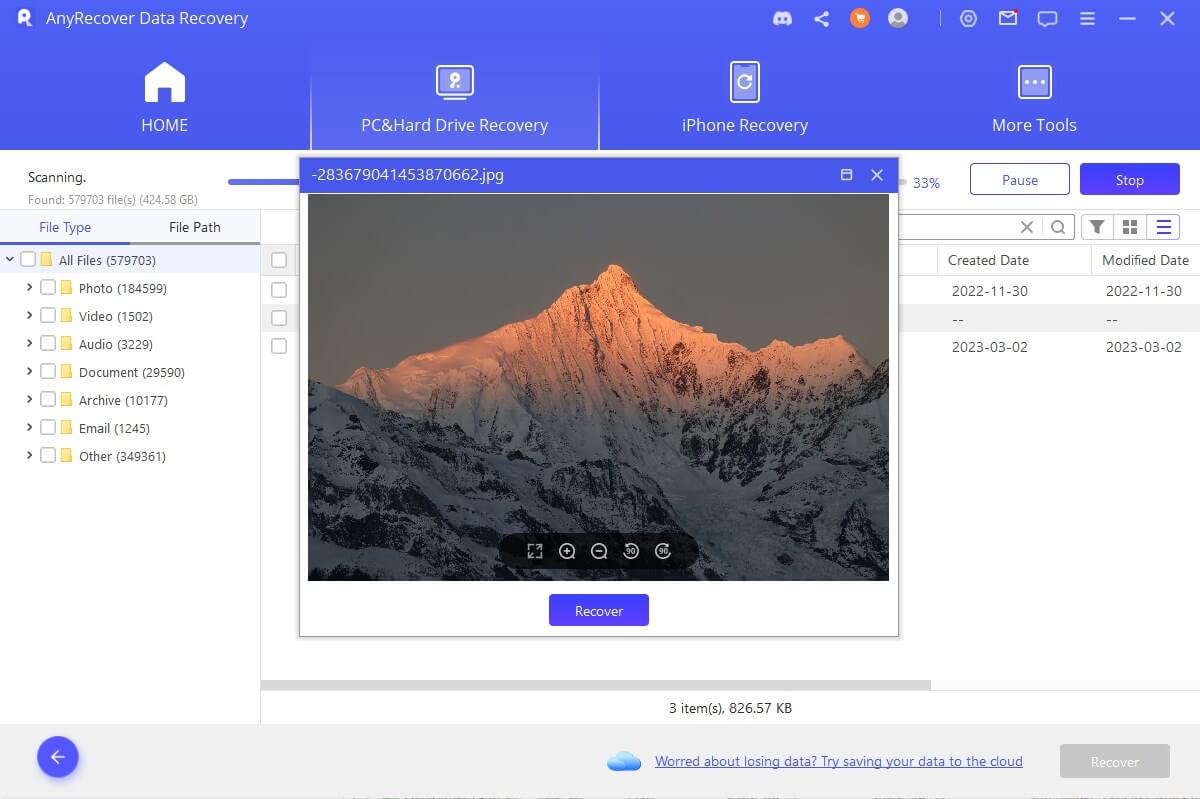 3
Tips to Prevent Data Loss on TF Memory Card
You can easily recover your lost data from TF card using iMyFone AnyRecover by following the steps mentioned in the above part. But it's an old saying that prevention is always better than cure, similarly, here I will focus on some tips that will help you to prevent data loss on TF cards in the future. Let's' get started:
Always safely eject a TF card instead of unplugging it directly.
Be careful when you insert your TF card into any device and make sure it's properly settled and the direction is on the right side.
Always think twice before deleting or formatting your TF card data.
Don't ever forget to create a backup of your important data.
Don't put your TF card in a place where temperature and humidity are much higher than normal.
If you ever realize that your TF card is not working fine or it's not in a good condition don't hesitate to immediately buy a new one and move all your data to some backup data storage device.
Never try to shut down your computer or digital camera while transferring data on a TF card.
Conclusion
Finally, we have made it clear what is TF card and now you are well aware of the similarities and differences between a TF and SD card. If you are facing any situation where you have deleted your important files from a TF card, then the best solution is using iMyFone AnyRecover to recover your deleted data, in only three steps your data will be back, fast and secure.