Voice recorders remain popular, despite the proliferation of smartphones and tablets, because of all the advantages they offer. As dedicated devices, they offer easy-to-use controls and dedicated microphones, so they remain essential for anyone who needs to capture voice or sound recordings.
But as stand-alone devices, they carry a risk. Data isn't instantly backed up to the cloud-like your phone, so there is a danger of losing data if you accidentally delete a file. But it is often possible to recover a voice recorder file, and we will take you through how to recover deleted files from voice recorder devices.
Part 1: Can I Recover Deleted Voice Files from A Digital Voice Recorder?
Understanding how a digital file system works will explain why it is possible to recover voice recordings from your digital voice recorder. File software is written to be efficient, so unnecessary operations are avoided.
The storage space will have two parts, the recordings, and a separate index. When you record something, it will write the recording data into the storage and add an index, so you know it is there and the device can find it.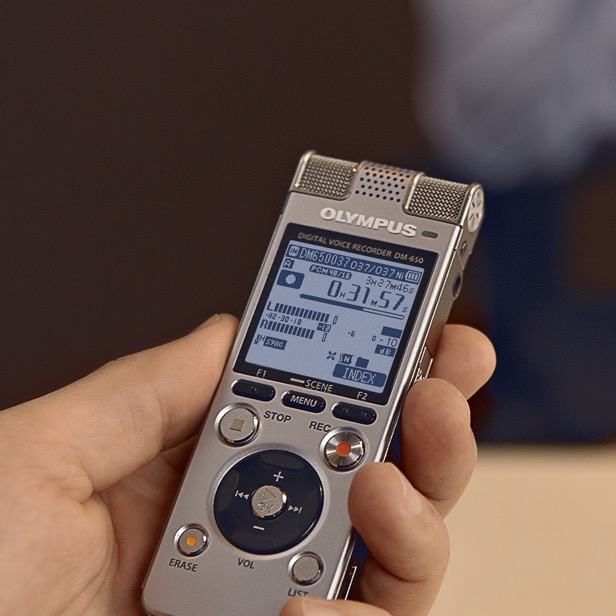 However, when you delete the file the device doesn't actually delete the recording. Instead, it just removes the reference to the file in the index. That way, it saves itself the hard work of having to delete a whole file. Instead, it just knows that it can use that space and, at some point, it will overwrite the old file with a new recording.
It is important to remember this when you need to recover a voice record file. Deleted files aren't removed immediately, but instead are overwritten later, so it's vital you attempt to recover deleted files from a voice recorder as soon as possible. The more you use it after the file is deleted the more likely is that space will have been re-used and the file overwritten.
Part 2. How Can I Retrieve Deleted/Lost Voice Files from Olympus & Sony Voice Recorders?
AnyRecover is an easy-to-use application that can recover data from almost any device, including the digital voice recorder. Available on both PCs and Macs, AnyRecover will make data recovery a breeze. All you have to do is download it on your PC and do a few simple clicks, then your voice recording files will be back. Besides, AnyRecover is safe to use since it has been recommended by leading tech media outlets and writers.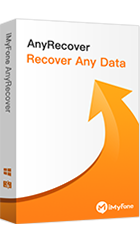 1,000,000 + Downloads
AnyRecover is capable of retrieving deleted files from various digital voice recorders, such as Olympus, Sony and so on.  
It also supports the recovery of more than 1000+ files from PC or external hard drives.
Recover your files without data loss or leakage, 100% safe to use.
3 simple steps are required, you're able to recover your lost voice recorder within minutes.
You can preview before the recovery. And you're able to recover 8 files for free.
Support Windows 11/10/8.1/8/7/XP, macOS 11.0/10.15/10.14/10.13/10.12, and Mac OS X 10.11 ~ 10.10.
If you need to know how to recover deleted files from an Olympus or Sony voice recorder, AnyRecover is simple to use.
Step 1: First, download it to your PC if you don't already have it.
Step 2: Once the app is running, you'll see an intuitive interface, choose the location where you lost your voice recorder files, here we select from the tab External Removable Devices. Click Start to proceed to scan.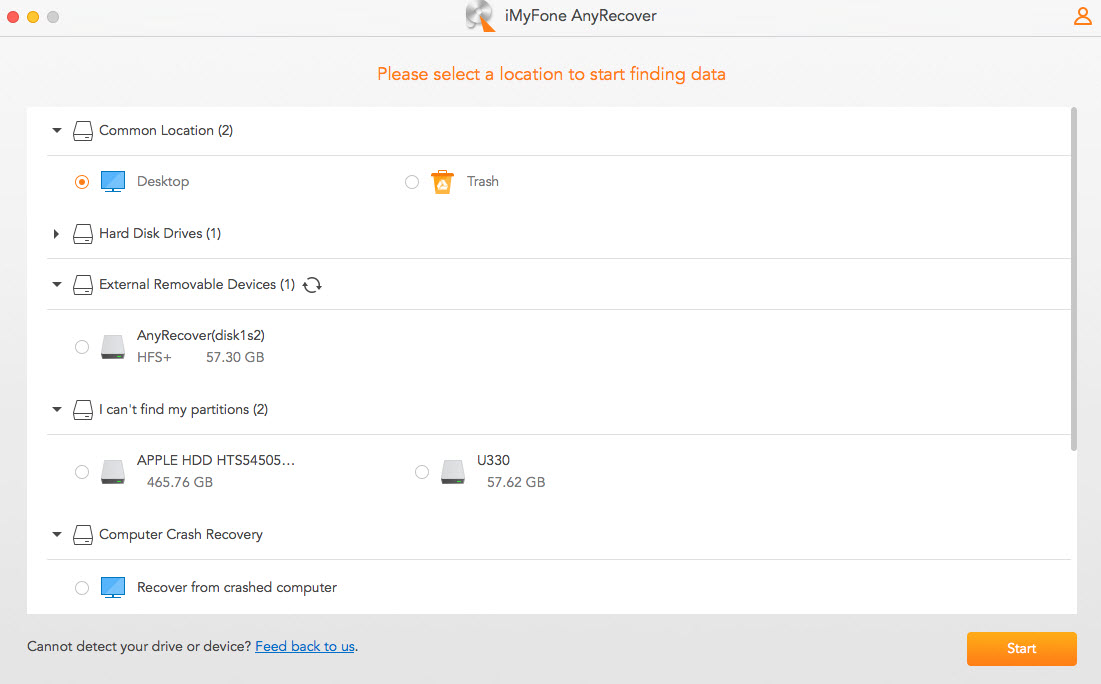 Step 3: Once complete, you can locate the file, and preview it. Once you have found the voice recorder file you need, all you have to do to recover your voice recorder file is to click Recover.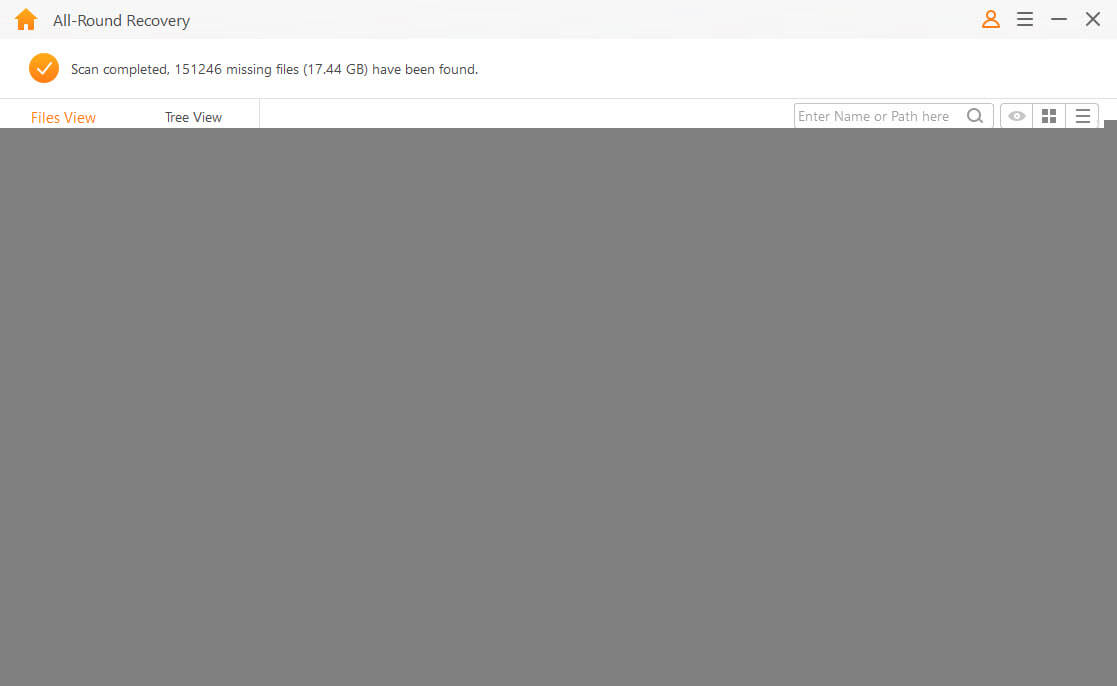 Part 3. Tips on How to Protect Digital Voice Recordings
Accidents will happen, but there are lots of things you can do to help prevent data loss and make sure you never need to learn how to recover deleted files from a voice recorder!
1. Use a trusted brand
It's important to use a high-quality device. While there are many makes on the market, try to use one from a brand with a reputation for high quality. Sony and Olympus voice recorders are frequently recommended for a reason, they are made by companies that combine quality and experience in voice recorders.
2. Lock the SD card
If your device has an external SD card, then use the physical protection lock on this. It will mean you cannot record anything to the card, so you can be absolutely sure no voice recorder files will be accidentally deleted.
3. Use your device settings to protect files
Most devices, including Sony and Olympus voice recorders, enable you to protect or lock individual files, preventing accidental deletion. The way you do this varies from device to device, but the recorder manual or an internet search should show you how.
4. Only connect to trusted computers
Always be careful when connecting to different machines. When your Olympus or Sony voice recorder is connected to a computer it becomes a drive on that computer and, therefore, the computer can copy, change or delete files on the voice recorder. Make sure you trust the computer before you connect and be incredibly careful when connecting to computers to which there is uncontrolled access.
5. Keep it safe
Although the voice recorder files are only 0s and 1s, they need to be saved on a physical device. If the device isn't safe nor is your files. Be careful to avoid physically damaging your device or exposing it to water or extremes of temperature that might affect the memory and other components. And take measures to keep it safe from loss or theft: you cannot recover voice recordings from a digital voice recorder you no longer have.
Conclusion
Prevention is always better than cure, so taking steps to avoid data loss is always recommended. However, if you do accidentally delete a file it does not mean it is gone forever.
If this does happen to you, all is not lost. Stop using the device to make sure you don't accidentally record over the data, then use AnyRecover to scan the recorder, preview the files and recover the data. It's easy, with the right tools and know-how, to recover deleted files from voice recorders.