When your Adobe Illustrator crashes, the amount of sheer dread and panic fills you.  Working on a gorgeous web template, book illustration, or product packaging is terrifying in the moment. Recently, I was working on a large website template file in Adobe Illustrator, fine-tuning some of the icons, graphics, and logos that were going to be used  and had the program crash on me, which would have taken away hours' worth of work. How do you get around this? Let's talk about Adobe Illustrator crash recovery, how to turn on autosave and how to recover unsaved illustrator file after crash.
How to Turn on Illustrator Autosave to Prevent Data Loss?
While there are plenty of reasons behind why your Adobe Illustrator may be crashing, the main scenarios include an incompatibility between the program and your computer's technical specifications, issues with third-party plugins, and outdated software that needs to be updated. In addition to this, having the autosave feature on can also cause the editor to crash. This is especially true for those who are working on complex files, as the program will try to back the file up, causing it to freeze and crash. This mainly happens when it takes too long to render a 3-D model, render the perspective drawing of the file, or accomplish the design of a vector.
Despite the fact that autosave can cause the program to crash, it is necessary to have it enabled so that you can recover files from the backups without incurring data loss. Here is how to enable the autosave feature.
Step 1. Open up Adobe Illustrator and head to the preferences section. Choose the File Handling/Clipboard Option and then Data Recovery.

Step 2. In the Data Recovery window, make sure the box labelled "Automatically Save Recovery Data" is check marked. This turns on data recovery.

Step 3. You will be asked to set a time interval for when you want the autosave feature to kick in. If you set it too early, it will interrupt your work, but if you set it too long, you are more prone to data loss. So, choose a time interval that works best for the main types of projects you work on.

Step 4. Next, choose a location to store your backup files.
You may also want to checkmark the box that is labelled, "Turn off Data Recovery for Complex Documents" as this will prevent you from getting interrupted on larger projects and hopefully lessen how often Adobe Illustrator crashes.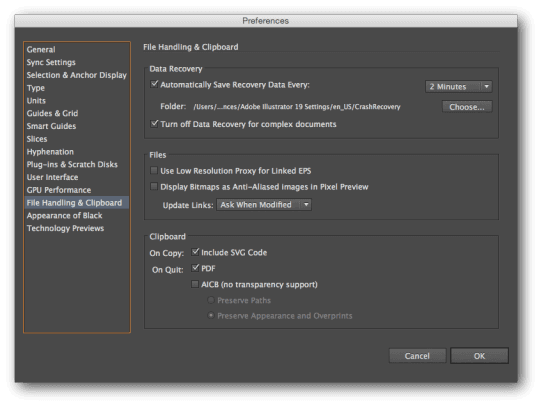 In the next section, we will talk about how to recover lost data from Adobe Illustrator after a crash.
Methods to Recover Adobe Illustrator File After Crash
If you are finding that you need to recover a lost illustrator file from illustrator after crash frequently, it is recommended that you either turn on the autosave feature so you can retrieve your files from a backup, or  try fixing the issue by running a diagnostic on the program. Other than this, you can always use a third-party program to retrieve the unsaved file.
1

Restore Illustrator File from Backup Files

If you have turned on the autosave feature, you can retrieve your document from the backup files. These are generally stored in your C:// Drive under Adobe Illustrator's AppData folder. However, if you followed the autosave feature steps above, the backups will be where you directed them too. If the backups are right there, you can easily source them, and while they are not going to be the full file, you won't have to start your work over from scratch again. Here is how to restore using these backups.
Step 1. Open up the default folder where the backups are stored or go to the folder that you directed the backups too.

Step 2. Take a look at the files in this folder and look for messier names or file names that include "recovery" in them. You will need to sift through these until you find the one you want to recover. Once you've found it, you will need to rename the file.

Step 3. Once renamed, double-click to open it up in Adobe Illustrator.

Step 4. Once it has opened, head to the File menu and use the "Save As" option to give it a new name and save it to a new folder for safe keeping.
Note
You can only recover a previous version of the file (not the most recent), and if you get a crash during the recovery interval (before the file saves again), you could lose data.
2

Run a Diagnostics on Illustrator to Recover Unsaved Files

If your Adobe Illustrator is crashing repeatedly, to the point where it is mostly unusable, then it is recommended that you run a diagnostics on the program. To do this, you will need to wait until the program crashes again. You will get some guidance as to why your program is crashing. This may help you fix the crashing completely, permitting that you follow the instructions correctly.
Step 1. When your Adobe Illustrator crashes, re-launch it immediately. A dialogue box will appear asking you if you want to diagnose the problem. Run this!

Step 2. This will force Adobe Illustrator to launch up in safe mode and identify and list out and probable causes of the crash.  Make note of what these probable causes are, such as outdated drivers, plug-in problems, and corrupt files.

Step 3. The diagnostic program will give you recommended solutions to help fix the crashing. Go through these in their entirety. Once done, relaunch Illustrator and save the recovered work.
Note
It may take a while to run the diagnostics and you may still have to take a few shots in the dark to figure out where there is corruption, which drivers are out of date and so on.
3

Recover Lost Illustrator Files with AnyRecover

Adobe Illustrator files are a mix file, meaning that they can contain pictures, images, vectors, graphics, icons, fonts, and more. If you don't have backup, you will need a pretty hefty program that covers all of these bases. AnyRecover will be an ideal choice. With three steps, you can recover hidden, lost or deleted Illustrator files with AnyRecover quickly.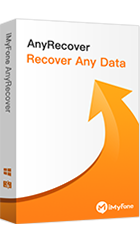 1,000,000 + Downloads
Features of iMyFone AnyRecover:        
AnyRecover is able to restore losing data due to overwriting and coverage for all types of data loss scenarios.
It can restore Adobe Illustrator files for you through whatever storage medium you are saving the file too.
It supports over a 1,000 different file formats, whether you are working on a website design, a new logo, or even a book illustration, the file will be recoverable.
It is the best software providing all kinds of recovery options just a click away.
AnyRecover is 100% safe for use regardless of your device or how the file was lost.
Here is how to recover lost data from Adobe Illustrator after a crash:
Step 1. Download and run AnyRecover from your personal computer. When you launch the program, you will be asked to choose which drive you have your Adobe Illustrator files saved to. Once you've chosen the correct location, hit the Start button.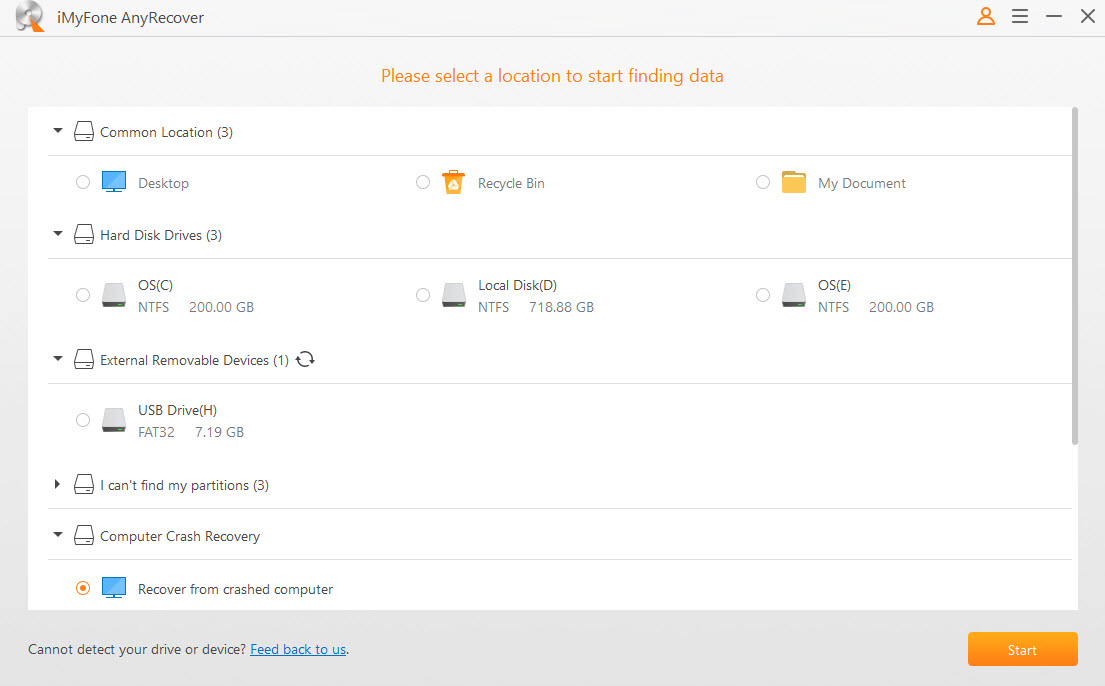 Step 2. AnyRecover will begin to do an all-round scan on the location for the lost illustrator files.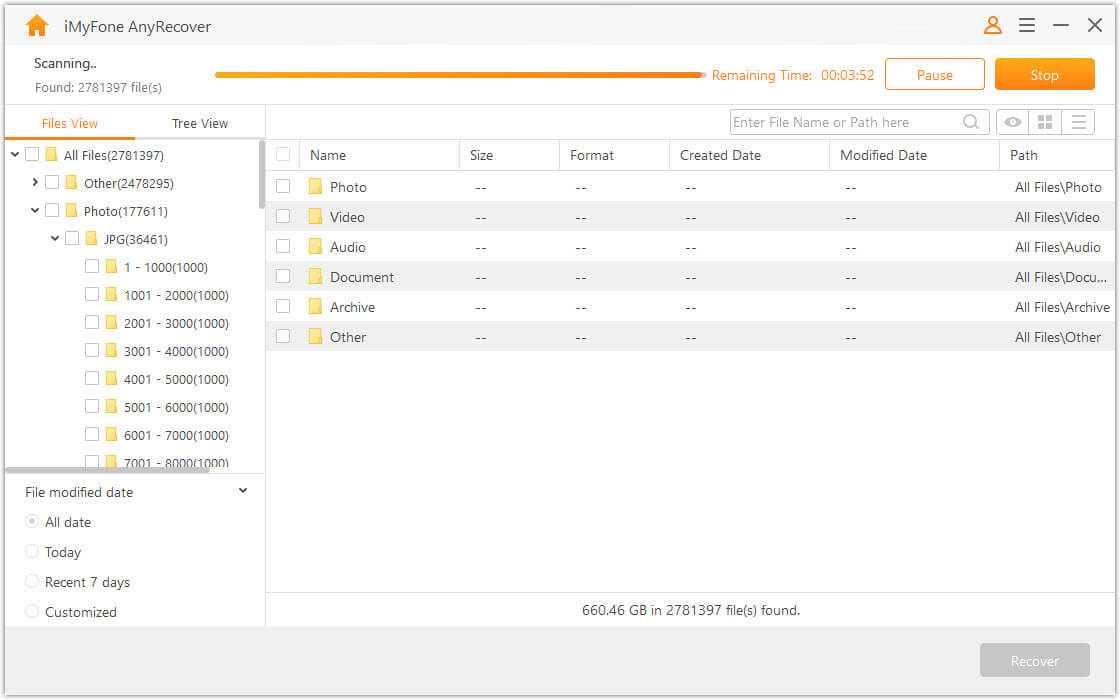 Step 3. Wait until the scan is complete. You will know when it is done as a list of files will be compiled. Preview these files and find the one you are missing from the crash. Select it and hit the Recover button. Make sure to save them to a safe place.