BitLocker encryption is a highly useful feature of Windows platform that allows you to encrypt and password-protect a drive. While this feature works great on Windows, Mac users may find it difficult to access the contents of a BitLocker encrypted drive. This is because there is no official way to access BitLocker drive from Mac. A user recently reported the problem, "I received a BitLocker encrypted USB drive from a friend. It contains some valuable photos but unfortunately, I cannot access them because every time I plug the USB into my Mac, I encountered the error that the disk is not readable by this computer. How can I easily access BitLocker USB drive on Mac?" Fortunately, there is a way. Read on to learn more.
Part 1: Is BitLocker Supported on Mac?
As you may already know, BitLocker is a Windows exclusive feature that has been designed to encrypt a USB drive, SD card, hard disk, or any other storage medium to protect its contents from unauthorized access. Once a drive has been locked via BitLocker, there is no default way to open, read, or write to that drive on Mac. While the macOS does detect the BitLocker encryption on a drive, it cannot mount it or access its contents. Fortunately, all is not lost. There is a reliable way to have full access to a USB drive on Mac that has been encrypted via BitLocker. For this, you will need to download and install a BitLocker for Mac tool. Such tools are made to specifically deal with this situation.
Keep in mind that while a third-party software can help you access BitLocker USB drive from Mac, there are certain conditions that need to be met first. These include the status of the drive (it should be healthy), no physical damage, drive is not corrupted or formatted, and you must also have the recovery key.
Part 2: How to Access BitLocker Encrypted USB Drive from Mac with BitLockerGoMac
There are many tools available on the market that can help you access BitLocker encrypted USB drive on Mac. It is recommended that you use iMyFone BitLockerGoMac. BitLockerGoMac is a beginner-friendly BitLocker for Mac tool that allows you to mount and access BitLocker encrypted drive on Mac without compromising the integrity of the encrypted data. Through its powerful features, this software bridges the gap between Windows and Mac by helping you to access, read, and write any drive that contains BitLocker encryption. It basically makes any BitLocker encrypted drive compatible with Mac. Supported BitLocker encrypted drives include USB drives, external hard drives, SD cards, and more. This means you can freely share your memorable photos, sensitive documents, private videos, etc. with your friends or partners without any privacy concerns.
Thanks to BitLockerGoMac, you can have a third reliable drive encryption choice on Mac, in addition to Apple's native encryption features i.e. APFS (encrypted) and FileVault.
Steps about How to Access BitLocker Encrypted USB Drive from Mac with BitLockerGoMac:
Step 1: Download, install & launch BitLockerGoMac on Mac. Then connect a BitLocker encrypted USB Drive to your Mac.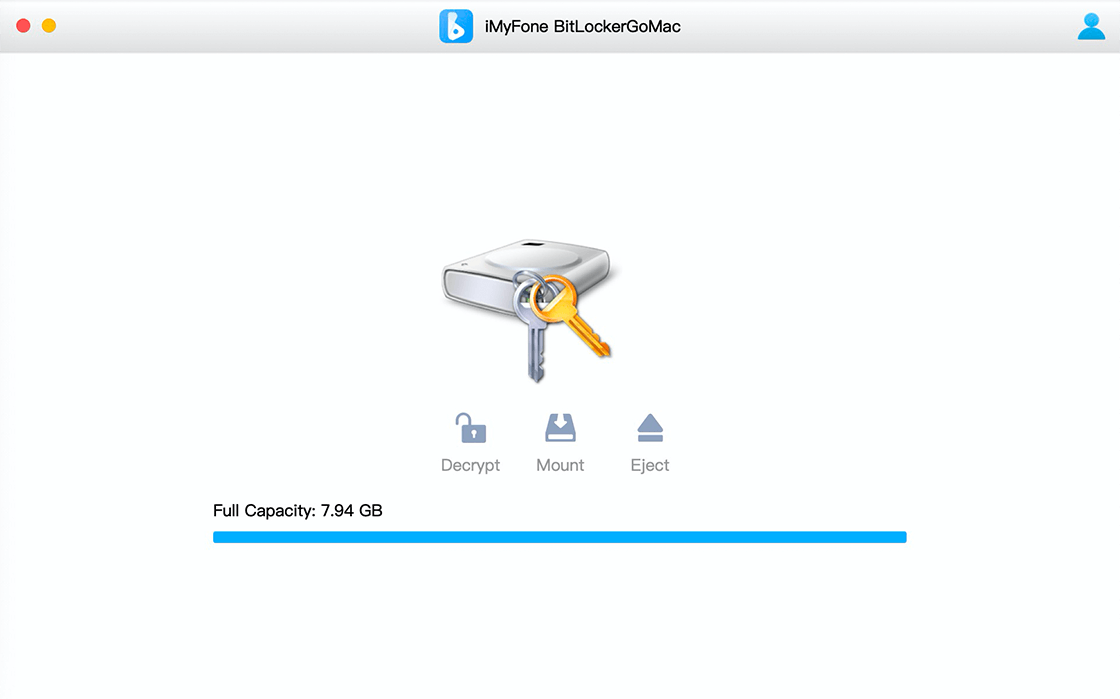 Step 2: Click the Mount button and enter the passcode or import the recovery key file to mount this drive.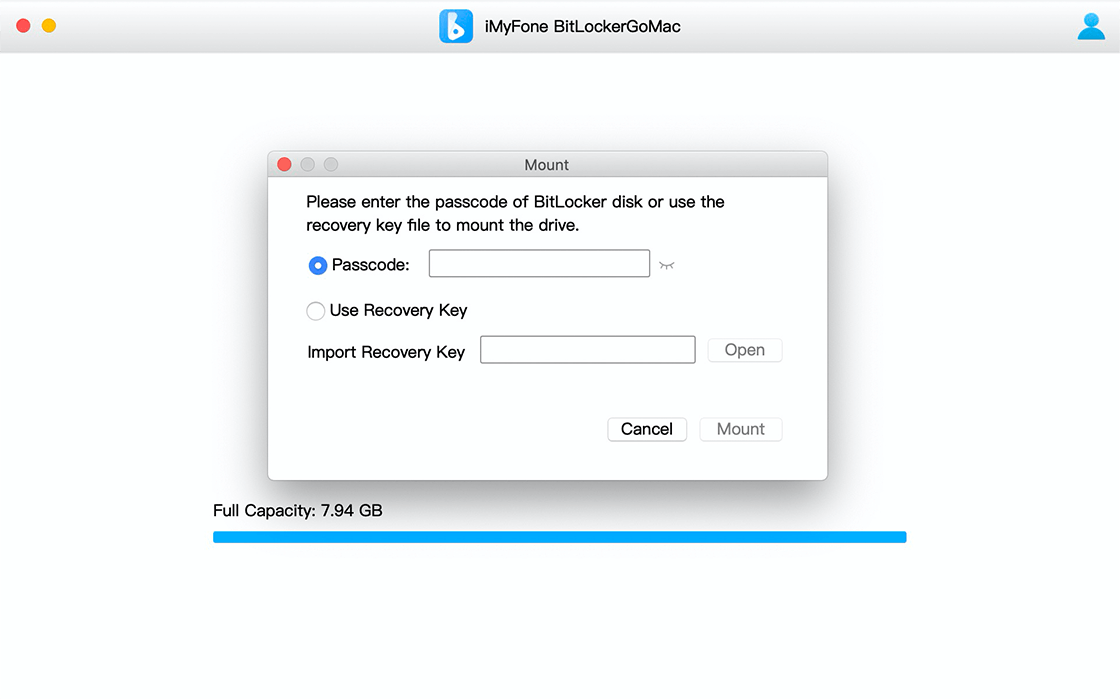 Step 3: After the drive is successfully mounted, you can access the files stored on it just like a Mac computer's native drive. You can import, export, delete, add new files or rename files in this USB drive.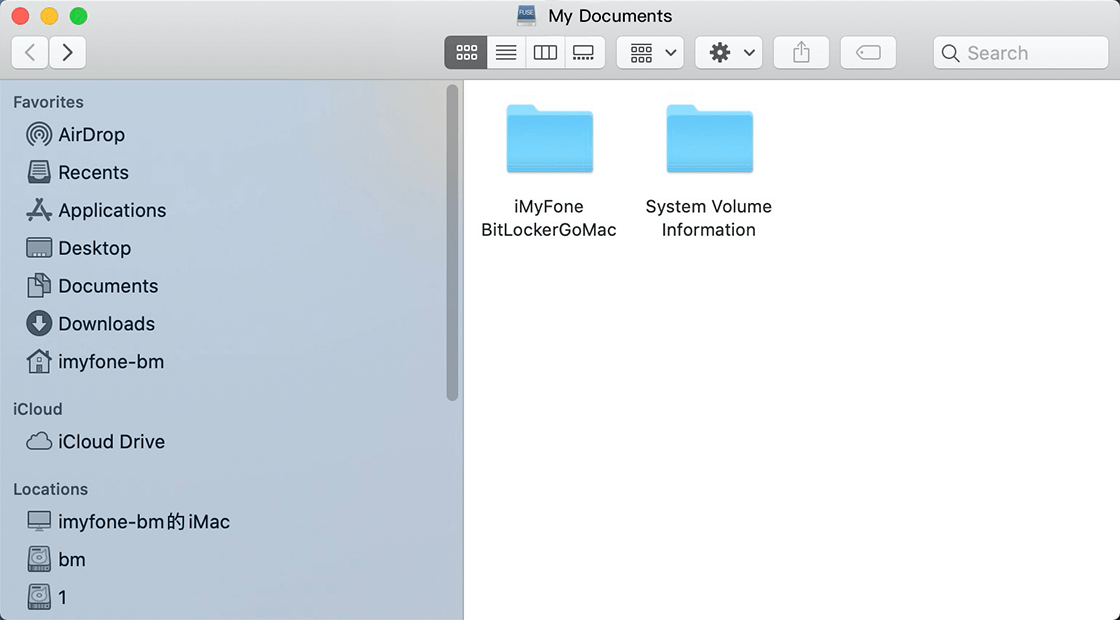 Bonus Tip: How to Decrypt or Turn Off BitLocker on Mac
You can decrypt or turn off BitLocker on Mac. To do this, you will need to use the Disk Utility program on Mac because BitLockerGoMac does not have a function that can turn off BitLocker. Decrypting or turning off BitLocker on Mac is a straightforward process. Follow these instructions:
1. First, it is highly recommended that you back up the data stored on the encrypted disk because decrypting or turning off BitLocker will erase it. Use iMyFone BitLockerGoMac to access the contents of BitLocker encrypted drive and copy them on your Mac's hard drive.

2. Next, launch the Disk Utility program. You can launch it via Finder or by navigating to Application > Utilities.

3. In Disk Utility, use the left panel of the interface to find and select the BitLocker encrypted disk.

4. Then click on the Erase button. This will remove Bitlocker encryption from the drive.
Conclusion
In conclusion, it is possible to access BitLocker encrypted USB drive on Mac. You can do this by installing a reliable BitLocker for Mac software. Since BitLocker is a Windows proprietary encryption utility and Microsoft has not implemented BitLocker for Mac clients, you will need to choose a third-party tool. Fortunately, there are many BitLocker for Mac tools available on the market. If you are not sure which one to choose, then it is recommended that you give iMyFone BitLockerGoMac a try. It is a simple and beginner-friendly BitLocker for Mac software that allows you to mount and access BitLocker drives on Mac.