With over 3 billion downloads and millions of active users, TikTok has emerged as one of the leading social media platforms. On one side, it let users watch unlimited videos, while on the other side, it empowers users to create videos and lets them get watched across the globe. But users are often found complaining about the "TikTok videos not playing" issue. Despite having proper internet connectivity, sometimes TikTok videos don't play. There can be multiple reasons behind it, but it's a fixable problem. In this guide, we are presenting the possible reasons and solutions that can let you resolve the issue in no time. Let's get started!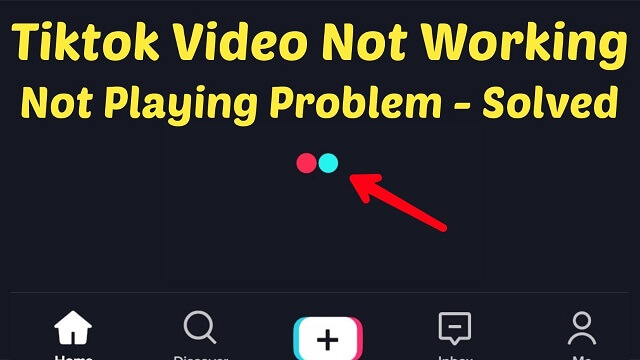 Part 1. Why Do TikTok Videos Not Playing?
Well, users that face TikTok not loading videos issue have different reasons behind it. There is no one common problem that is triggering the loading issue in every case. The common reasons why TikTok video not working are as follow:
Network connection issue
App malfunction
Cache and data corruption
TikTok servers malfunction
Government banned TikTok
Mostly the reason behind TikTok videos not playing relies on one of the above-mentioned issues. Let's now discuss how to fix this issue.
Part 2. How Do I Fix TikTok Videos Not Playing?
Once you are trapped in TikTok videos not loading issue and you don't know the root cause, the best way out is to try out multiple solutions until you find one that works for you. Following are 6 solutions that are most likely going to resolve the issue:
Solution 1. "Force Stop" TikTok
The first thing you should do is "Force Stop" TikTok and restart it. This way, if the app is malfunctioning, then it would get resolved with a fresh restart. Follow the below steps:
For Android: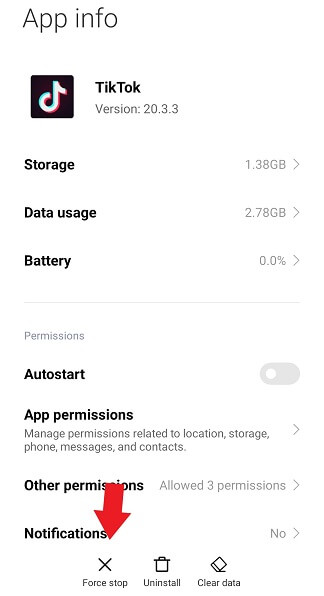 For iPhone:
Open App Manager.

Look for the TikTok app and swipe up, down, right, or left to force close the app.
Solution 2. Clear Data and Cache of TikTok App
It is rare but possible that your TikTok app data and cache get corrupted. If it happens, it will prohibit TikTok videos to load. So, you must clear the data cache of the TikTok App and launch the app again. Follow the below steps:
For Android:
Go to phone Settings and then click Apps.

Search and click TikTok. Afterward, click Clear data from the bottom.

Lastly, click Clear all data. It will clear both data and cache.
For iPhone:
Go to phone Settings and select General.

Click Storage & iCloud Usage and then click Manage Storage.

Search and click TikTok. Proceed with the option Documents & Data and delete it.
Solution 3. Restart Your Modem and Router
Sometimes the issue is as simple as internet connection disruption. You assume you have a perfectly working Wi-Fi connection, but that's not the case. You can test out if your internet is working by opening the browser on your phone and visiting any website. If it loads the page successfully, then your internet connection is perfect. But if it fails to load the page, then you can restart your internet connection to fix the issue. Follow the below steps:
Turn off your Wi-Fi connection from your phone.

Remove the power supply from your modem and router and wait till 2 minutes.

Connect back the power supply and let the modem and router connect with the network.

Turn on your Wi-Fi connection and make the connection with the modem.

Test out your internet connection and then launch TikTok.
Solution 4. Restore Default APN Settings
If you are using a mobile network internet connection, then your Access Point Name (APN) setting malfunction can also cause an interruption in your internet connection. In such a case, you can simply restore default APN settings and fix the issue. Follow the below steps:
For Android:
Go to phone Settings and then click SIM cards & mobile networks.

Select the SIM card with whom you are having an internet connection and then click Access Point Names.

Click the Reset button.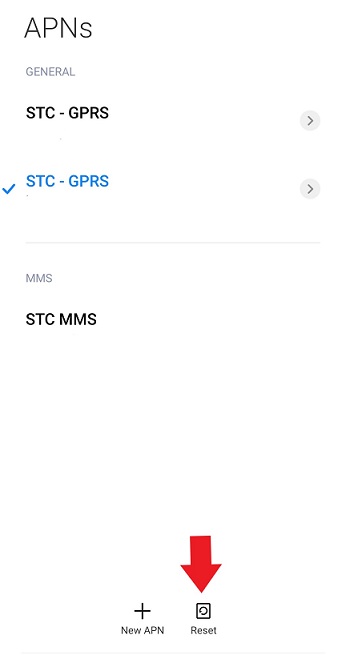 For iPhone:
Go to phone Settings and then click Cellular.

Click Cellular Data Network and then click Reset Settings.
Solution 5. Uninstall and Reinstall TikTok App
If clearing data/cache and rechecking your internet connection do not resolve the issue, then the issue probably is in your TikTok app. So, you should uninstall the TikTok app completely from your phone and then reinstall the app from Play Store or App Store.
Solution 6. Use VPN
Many users have reported that installing a VPN on their phones helped in resolving the issue. So, you can also give it a try. Follow the below steps:
Select a reputed VPN service, such as NordVPN, Hotspot Shield, ExpressVPN, ProtonVPN, and similar others.

Install its app on your phone from the Play Store or App Store.

Launch the app and make the connection.

Test out if TikTok app works.
Part 3. Issue Not Resolved? Possibility of Tiktok Servers Issue
The above 6 solutions are found to be most effective in resolving TikTok not loading videos issue. The majority of the users will have the issue resolved by opting for the above solutions. Although rare, still there are chances that your issue remains unresolved. The best reason for it is that TikTok servers are experiencing some issues. Since you cannot fix TikTok servers, so just wait for some time until the officials resolve the issue from their end. After some time, try launching the TikTok app again.
Wrapping Up
It is common to face TikTok videos not playing issue, so you shouldn't feel much worried. The most common reasons are network connection issues, cache memory, TikTok servers, etc. So, if you are trapped in this issue, then consider following the above 6 solutions one by one until you find the one that works for you.