TikTok has crossed Facebook to become the most downloaded app in the world. Being a popular video-sharing platform, it has millions of active users. This means if the app encounters a small malfunction that affects some percentage of users, it still means a vast number of users are affected. A similar malfunction situation is being witnessed, as any users are complaining about "TikTok following page not working" or "TikTok followers disappearing". If you are also facing a similar issue, then stay assured that you are not alone in this problem and it is not the first time it is happening. In this guide, we will have a closer look at such issues, find possible reasons, and then present the most effective solutions.
Part 1. Why My Following Page on TikTok Is Not Working & Followers Disappearing?
Many users have reported that they have suddenly lost all their followers, while many others witnessed that their feeds show no content at all. Similarly, some have reported that not just they have lost the following account list, but they also cannot follow new accounts. Some reported that TikTok is asking them to enter the date of birth again and again.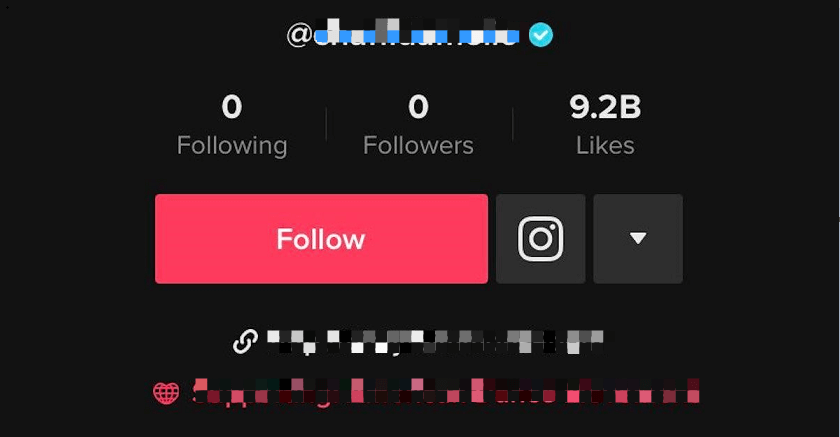 The best justification for all such issues is the "software glitch". A minor glitch in the software can trigger such kinds of errors. If it's not the glitch, then the next most likely reason is a server error. If the TikTok server is down or malfunctioning, then it justifies why you are seeing a big ZERO on your following and follower count. Other less likely reasons include outdated TikTok app version, TikTok app cache corruption, and similar others.
Whatever reason is triggering the problem, the good news is that your TikTok data is not lost. Even if you are not seeing followers or following count currently, it's still stored in TikTok servers and will be visible to you once the problem is resolved.
Part 2. Solutions to TikTok Following Page Not Working & Followers Disappearing Issue
Now that you know possible reasons behind TikTok following page not working, let's see what solutions we have to fix it. Following are the 6 solutions that are likely to help you resolve the issue:
Solution 1. Unfollow and Refollow
Some users have reported that unfollowing and refollowing a previously followed TikToker account helped in resolving the issue. Follow the below steps to test out this approach:
Open the TikTok app and search for the TikToker account you previously followed.

From his/her profile page, click Unfollow icon. Afterward, click Follow.

Head back to your profile page by clicking the Me icon from the bottom menu bar and see whether your following count is fixed.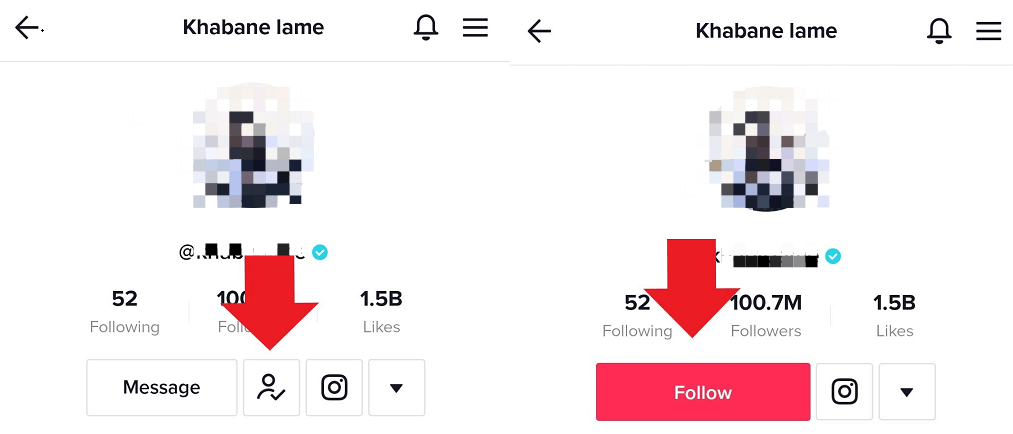 Solution 2. Exit and Re-Enter TikTok
There is a possibility that when you launched the TikTok app, it didn't load completely. Due to that, it might malfunction. The simple solution is to close the app or even "Force Stop" it and then launch the app again.
Solution 3. Clear TikTok Cache
TikTok cache helps you load faster by storing temporary data on your smartphone. The data is usually related to your profile and watch history. Clearing the TikTok cache can give the app a refresh, which can help in fixing our lined-up issue. Follow the below steps to clear the TikTok cache:
Click Me from the bottom menu bar and then click the 3 vertical lines menu icon from the top right corner.

Click Free up space and then click Clear located next to Cache.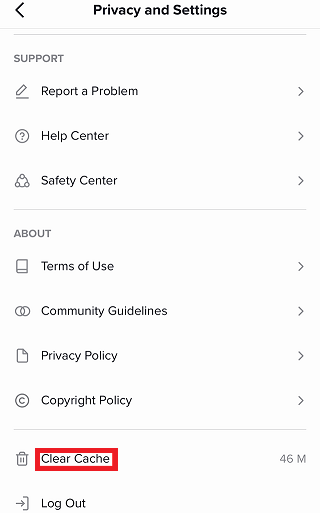 But clearing the TikTok cache does not mean it removes your drafts and videos. All it will remove is temporarily stored data, such as pre-loaded profile, watch history, etc.
Solution 4. Reinstall TikTok
Maybe the TikTok app in your phone is misbehaving, such as its data got corrupted or similar other causes that you couldn't identify. Therefore, reinstalling TikTok can fix things out. So, uninstall the app from your phone, download it again from Play Store or App Store, and sign in with the same credentials.
Solution 5. Update the App
If you haven't updated the TikTok app for a while, then it can behave abnormally and cause issues. So, make sure you are using the latest version. Go to Play Store or App Store and search for TikTok. If it says Update, then update the app.
Solution 6. Submit Feedback or Report a Bug
If none of the above solutions are working up for you, then you can submit feedback or report a bug so that the TikTok support team can have a closer look at your case. You can submit your feedback through the TikTok website or you can submit it within the app by following the below steps:
Click Me from the bottom menu bar and then click the 3 vertical lines menu icon from the top right corner.

Click Report a Problem and then pick the right category based on your issue and proceed further.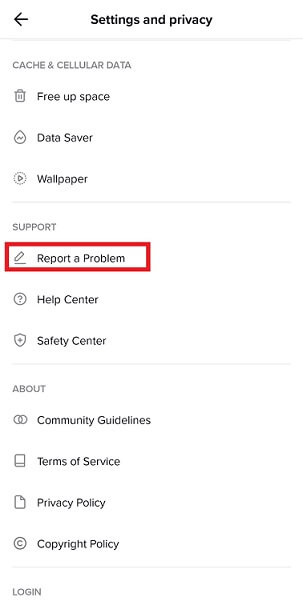 Bonus: TikTok Tricks You Need to Know
There are different tips and tricks about TikTok that can let you have more fun making TikTok videos. Here I have listed down my favorite TikTok tricks that you should also know about.
Tip 1. How to Do Voice Effects on TikTok
Would you like your video to be narrated by a robot or a chipmunk? Well, TikTok provides different voice effects that you can add to your video. Follow the below steps to do it:
Click the + icon from the main feed to create a TikTok video.

Click the red color record button to start recording the video.

Once the recording is done, click Voice effects from the right menu bar.

Select the effect of your choice.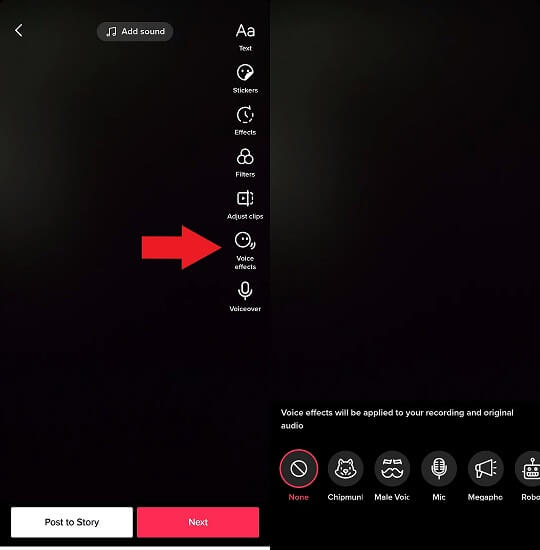 Tip 2. How to Use the Greenscreen Effect on TikTok
The green screen effect is one of the trending and best effects you can use on TikTok. It let you change your background instantly with one click. Follow the below steps to use the green screen effect on TikTok:
Click the + icon from the main feed to create a TikTok video. Afterward, click the Effects icon.

Go to the Green Screen tab by swiping the bar to the left. There you will find two green screen effects:

1. Select the green color icon with a photo and down arrow if you want to change the background with a picture.
2. Select the green color icon with a video and up arrow if you want to change the background with a video.

Select the picture/video of your choice and then click the Record button.

If you want to add more clips with different backgrounds, then keep repeating the above steps. TikTok will merge them together.

Once you are done recording, click the checkmark to go to the editing window. Add other filters, voiceovers, or voice effects, and click Next to go to the posting window.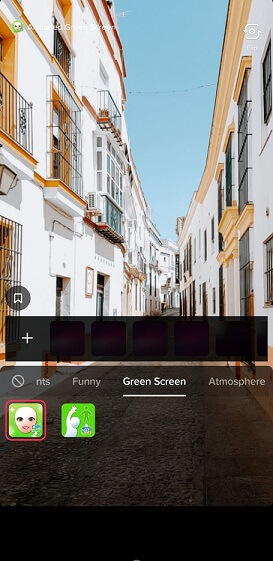 Tip 3. How to Hide Your Liked TikTok Videos
TikTok keeps a track of all the videos that you liked and even lets other users who visit your profile see what videos you liked. Many users don't like to show others what videos they liked. Luckily, TikTok allows you to hide your liked TikTok videos and maintain privacy. Follow the below steps to do it:
Go to TikTok app Settings and then click Privacy.

Click Liked videos and change it to Only me.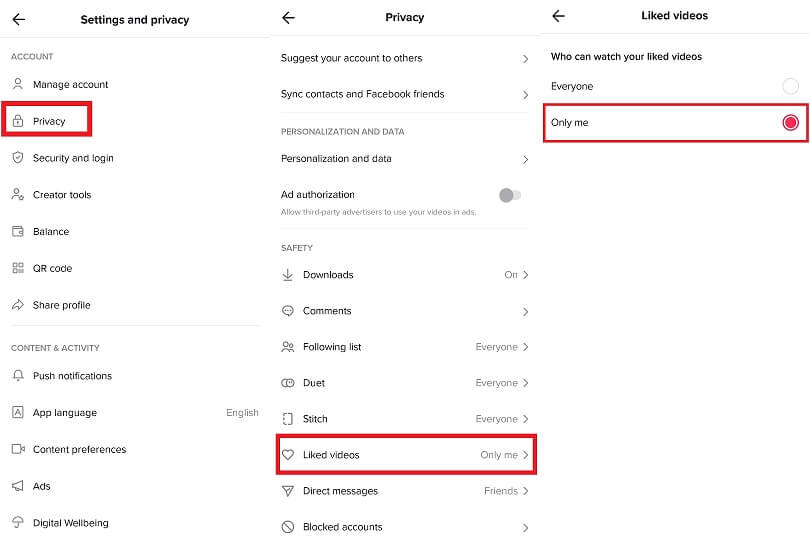 Now if you go back to the liked video section from your profile, you will see a lock, which narrates that only you can see your liked TikTok videos.
Wrapping Up
Many users have reported TikTok following page not working issue, but in most cases, it gets resolved automatically. So, you should wait a bit to see if the issue gets resolved. But if things are not improving, then start testing out the above 6 solutions one by one. By the end of the day, you will definitely get your TikTok account running smoothly just like before.