Instagram, as you know, is one of the fastest-growing social media platforms. This photo-sharing app allows you to post moments in pictures and videos, connect with friends, and promote yourself or your brand. The platform also contains terrific marketing tools and features that allow users to create fascinating content and reach more audiences. 
Although there are so many contents to enjoy on Instagram, it is possible to take a break from the overwhelming effects and craze of the platform, which could be spurred by different reasons. In order to stay away from this platform, you may need to deactivate your Instagram account for a while instead of deleting it completely. This article provides a detailed guide on how to deactivate your Instagram. Keep reading.
Part 1. FAQ on Instagram Deactivation
Can I temporarily deactivate my Instagram?
Sure, you can. If you are interested in staying off this platform for a while and wondering if it is possible to deactivate your Instagram, the answer is definitely Yes. However, it is vital to note that you must use a computer or mobile browser to achieve this because it is impossible to deactivate your Instagram using the mobile app.
How long can you deactivate Instagram?
Your Instagram account deactivation can be sustained for as long as you want. So be rest assured that all your personal information will be intact and available whenever you decide to reactivate your account.
What Happens When You Deactivate Instagram?
As soon as your Instagram account is deactivated, your profile, pictures, comments, and likes will all be concealed. Your followers and other Instagram users will be unable to view your profile and posts. Once you log in again or reactivate the account, all your information will be restored.
Part 2. How to Deactivate Instagram
How to Deactivate an Instagram Account Temporarily
It is possible to choose to deactivate your account temporarily or permanently. Here is a detailed step on how to deactivate Instagram account temporarily.
Go to your browser and visit Instagram (Remember, you can only deactivate your Instagram from a browser). 

Log in using your account details and click on the button located at the top-right corner, where you will find Profile.

Besides your profile picture and user name, you will see Edit Profile. tap on it.

Move down and tap the link that reads Temporarily disable my account.

Several possible reasons why you are disabling your account will pop up; choose one.

You will be asked to enter your password, type it in.

Click on the button that reads Temporarily Disable Account again and that's all.
Also, note that your Instagram account can only be deactivated once a week. You can also reactivate it at any time by logging back into your account.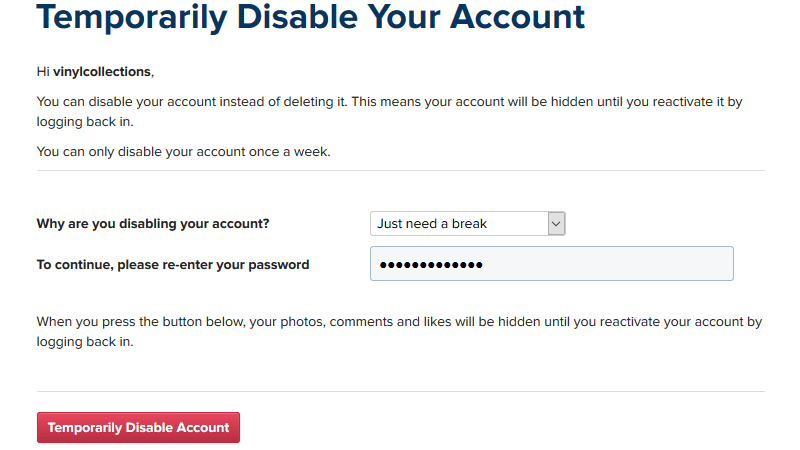 How to Delete an Instagram Account Permanently
As mentioned earlier, there are several reasons why you might feel like deactivating your Instagram permanently. Although deleting your account may seem drastic or too extreme, some reasons are justifiable. If you have decided to delete your Instagram and want to find out how to go about it, follow these steps:
Go to your browser and visit Instagram's dedicated page for deleting accounts.

You will be asked to log in if you are yet to.

Several possible reasons why you are deleting your account will pop up; choose one.

You will be asked to enter your password.

Click on the button that reads Delete [username].

Your account will be permanently deleted. 
And you can see a note below says your profile and account details will be deleted after 30 days. During this period, you are invisible on Instagram. However, if you change your mind, you can log back in before the deletion date and choose to keep your account.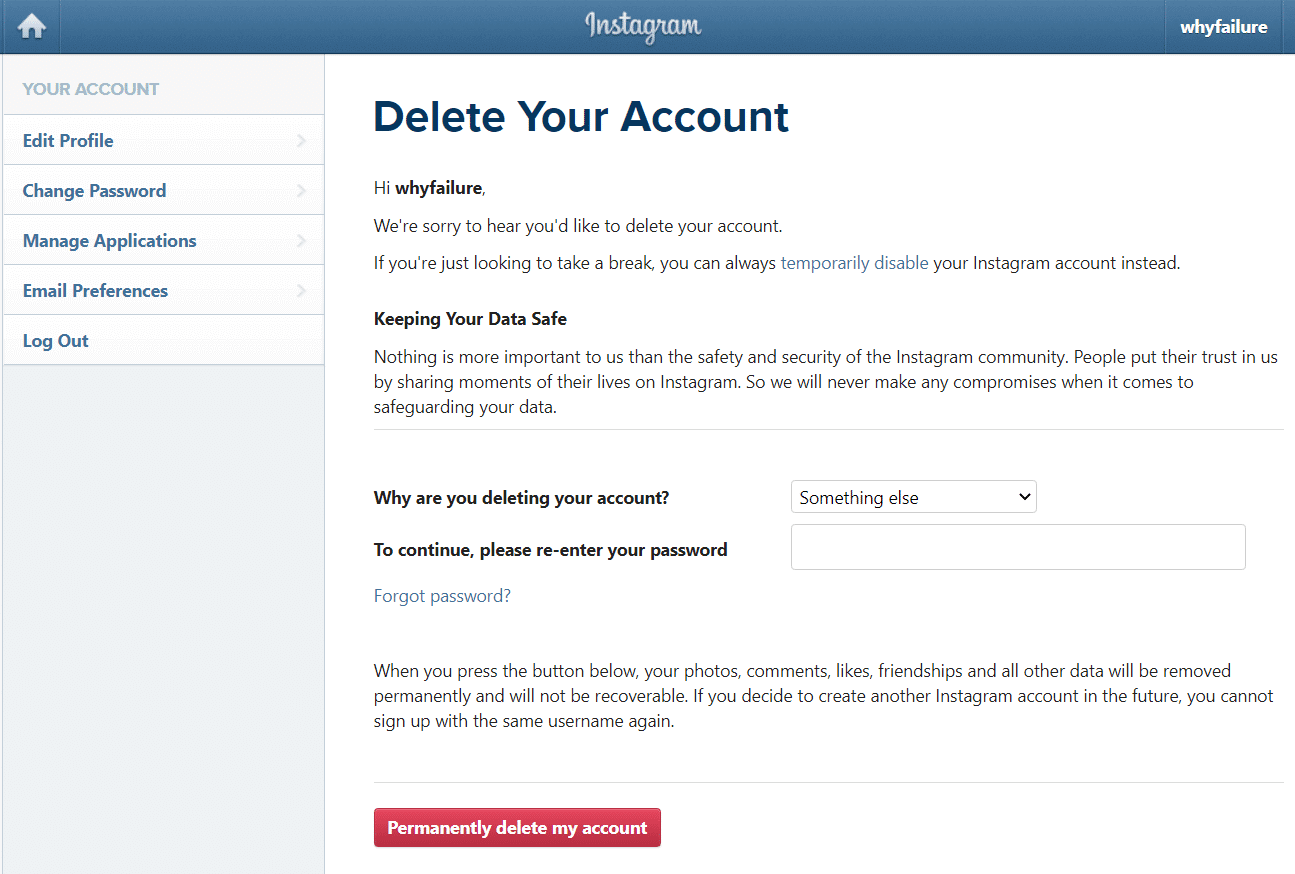 Conclusion
Although Instagram has a lot of exciting features that make users get addicted to it, at the same time, it could be quite overwhelming. If you are interested in taking a break from this app, you may want to deactivate your account temporarily or permanently. This article has provided all the steps you need to understand how to deactivate Instagram. Just follow those steps to do whatever you want.