Bookmarks are essential to our browsing experience, just like contacts to our day-to-day activities. Bookmarks on Firefox, like in most modern browsers, hold meaningful URLs saved for future use. This is useful when a URL is too long, or you stumble on an important URL that is not the homepage of a website.
However, sometimes you lose these Bookmarks accidentally maybe due to Firefox update, Windows upgrade, or Firefox deleted Bookmarks without your knowledge. The good news is; you have a high chance of retrieving these Bookmarks.
This guide will take you through the tested and trusted steps to recover Firefox Bookmarks if deleted or restore missing Firefox Bookmarks.
Part 1: How to Recover Missing Firefox Bookmarks?
Sometimes your Bookmarks might only be missing from your browser and not permanently deleted. In this case, you can use any of the solutions below to restore Firefox Bookmarks, depending on the cause.
1. Check if Firefox Has Created a New Profile
A Firefox profile is where your Bookmarks, passwords, extensions installed, and all other data are stored. There are times when Firefox creates more than one profile due to reinstallation or other reasons. Consequently, when you open your browser, you might not find your Bookmarks and other data because Firefox is running a different profile.
To get your Bookmarks from another profile, follow the steps below:
Type about:profiles in the address bar and press Enter. This will display one or more profiles.

The current profile running will be depicted with: This is the profile in use and it cannot be deleted. Check the other profiles for your Bookmarks by clicking on Launch profile in new browser beneath each profile.

Click on Set as default profile to continue using any profile you found your Bookmarks as the default.
Note
Don't click on Remove for any of the profiles, as this will permanently delete them.
2. Display the Bookmarks Toolbar
Firefox Bookmarks Toolbar shows your favorite websites (most used Bookmarks) at the top end of your browser window. This gives you easy access to the websites.
However, you might have unknowingly hidden the Toolbar, or you just can't find it for some reason. In this case, you need to show the Bookmarks Toolbar to get access to restore Firefox Bookmarks.
Below are the steps you need to follow:
Click on the three horizontal lines (menu button) on your Firefox window and Select the More tools option.

Choose Customize toolbar.. and click the Toolbars button at the bottom of the page.

Click on the Bookmarks Toolbar option. Select either Always Show to show the Bookmarks Toolbar on all pages, or only show on New Tab to display on a new tab only.
3. Restore Firefox Bookmarks from Backup
Firefox creates a backup folder for your Bookmarks where it saves the last 15 backups. This folder is vital to restore your Bookmarks when they go missing. Below are the steps you need to restore Firefox Bookmarks disappeared:
Click on the Menu button and select the Bookmarks option. Now, click on the Manage Bookmarks from the menu displayed.

Click on the Import and Backup tab from the menu tab displayed at the top and select Restore.

Now, you can choose any backup files you want to restore your Bookmarks from. The automatically created backups are the entries shown, while you can select choose file… for backups you created manually.
This method is also useful when you need to restore Firefox Bookmarks after upgrading or downgrading your Windows. The moment you carry out an upgrade or downgrade, a directory titled Windows.old is created. This directory holds the majority of data erased from the changes made, including Bookmarks.
To restore your Bookmarks, follow the steps above till step 3 and select choose file…, then, follow the path C:\Windows.old\Users\\AppData\Roaming\Mozilla\Firefox\Profiles\\bookmarkbackups to go to your previous Bookmarks. Now, confirm when the backup was created through the files' date and select the file to restore your Bookmarks.
Note
Once you restore Firefox Bookmarks from backup, it will automatically overwrite your present Bookmarks.
4. Recover from "Old Firefox Data" Folder
Firefox sometimes creates a folder titled "Old Firefox Data" on the Desktop. More often than not, this folder holds your Firefox profile backup and, as such, can be used to restore your Bookmarks.
Below are the steps to recover Firefox Bookmarks from an Old Firefox Data folder:
Step 1 Open the Old Firefox Data folder by:
Click the Menu button on Firefox Window and Select Help.

Choose the More Troubleshooting Information option. This will open the Troubleshooting Information Window.

In the Application Basics section, click the Open Folder button next to Profile Folder to open your profile folder.
Step 2 Close Firefox.
Step 3 Copy all folders related to your Bookmarks in the profile folder.
Step 4 Follow Step 1 above to open your new Firefox profile folder and close Firefox again.
Step 5 Paste the folder copied in Step 3 in your new Firefox profile. Then, close the profile folders and relaunch Firefox.
Note
Firefox must be closed when copying and pasting the folder to make this method effective.
5. Restart Your Computer
The cause of Firefox Bookmarks disappeared could be due to the installation of an add-on. This happens when you restart Firefox after installing an add-on, and Firefox could not close properly before restarting.
To restore your Bookmarks, in this case, you only need to restart your computer and relaunch Firefox.
6. Restore Firefox Bookmarks after Update
You may be unable to find your Bookmarks after you update Firefox to the latest version. This is because the update causes Firefox to restore to default. To get your missing Bookmarks, follow the steps in Solution 3 above and relaunch Firefox.
Part 2: How to Recover Deleted Firefox Bookmarks?
There are times when you are sure that your Firefox Bookmarks are deleted. There is still a glimmer of hope as you can recover deleted Firefox Bookmarks via the two solutions below.
1. Use the Undo Command
If you have just accidentally deleted your Bookmarks, you can quickly press the Ctrl+Z keys to Undo the deletion before carrying out another activity on Firefox. If this does not work, follow the steps below to open the Bookmarks sidebar to undo the deletion:
Click the Menu button and select Bookmarks.

Click on Manage Bookmarks.

Click on the Organize tab at the top of the window displayed and select Undo.
2. Use a Data Recovery Tool
If you created a manual backup for Bookmarks in a file but somehow lost it, there is no need to panic. You can employ a professional data recovery tool, and there is none better than the ever-reliable AnyRecover software to get the job done.
The AnyRecover data recovery software is a world-renowned tool that supports over 1000 file types such as archives, EXE, HTML, HTM, etc. It can recover data from any memory storage device with three efficient yet straightforward steps.
With an over 98% data recovery rate, you always have hope of recovering your deleted Bookmarks file and other lost data with this software.

Features of AnyRecover:
Deep scanning feature digs out all lost, deleted, or inaccessible data from your browser.
Its unique algorithms scan your device at astonishing speed.
File filter feature quickly searches for the file to be recovered by name, type, and date.
Data security and privacy.
Step 1 Launch the program and select the partition where all your bookmarks were deleted.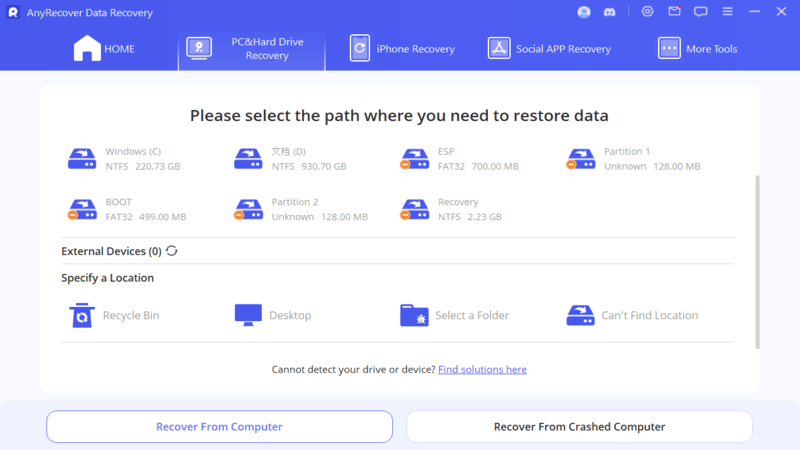 Step 2 AnyRecover will initiate a scan immediately to find your deleted bookmarks on Firefox.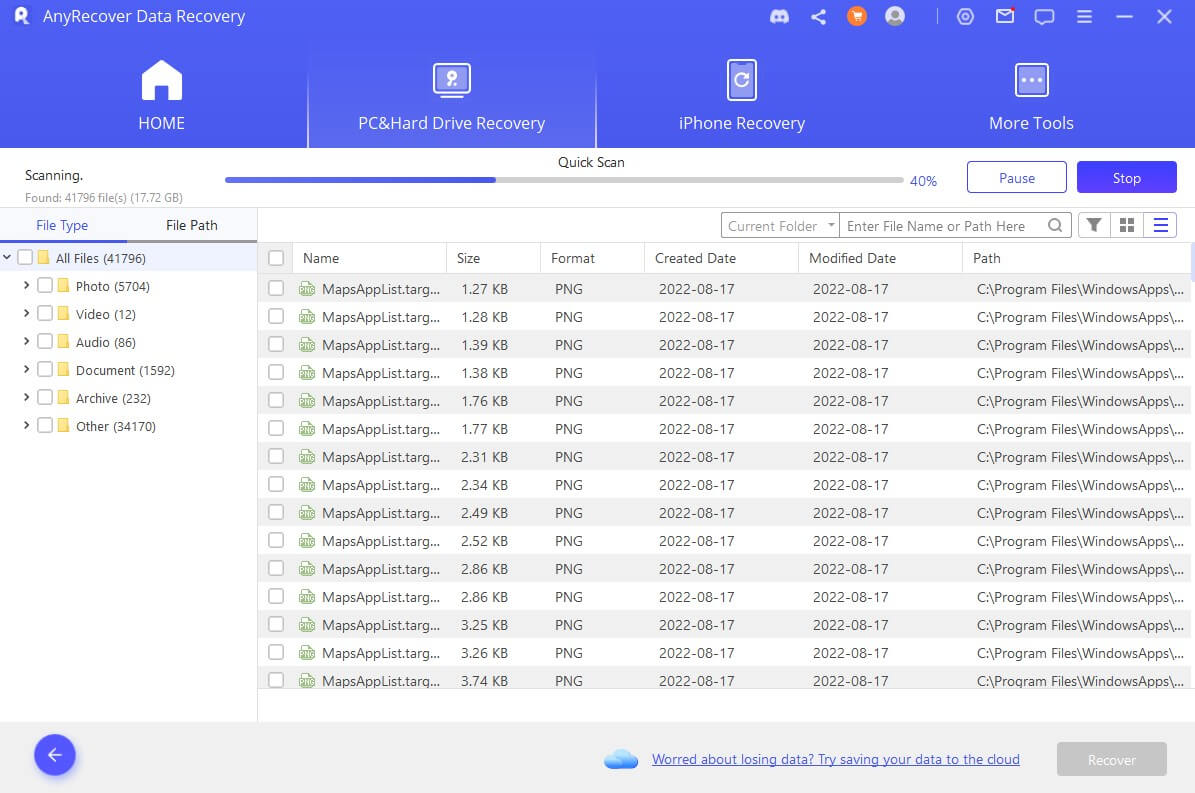 Step 3 When the scan is complete, click on the Recover button to restore them.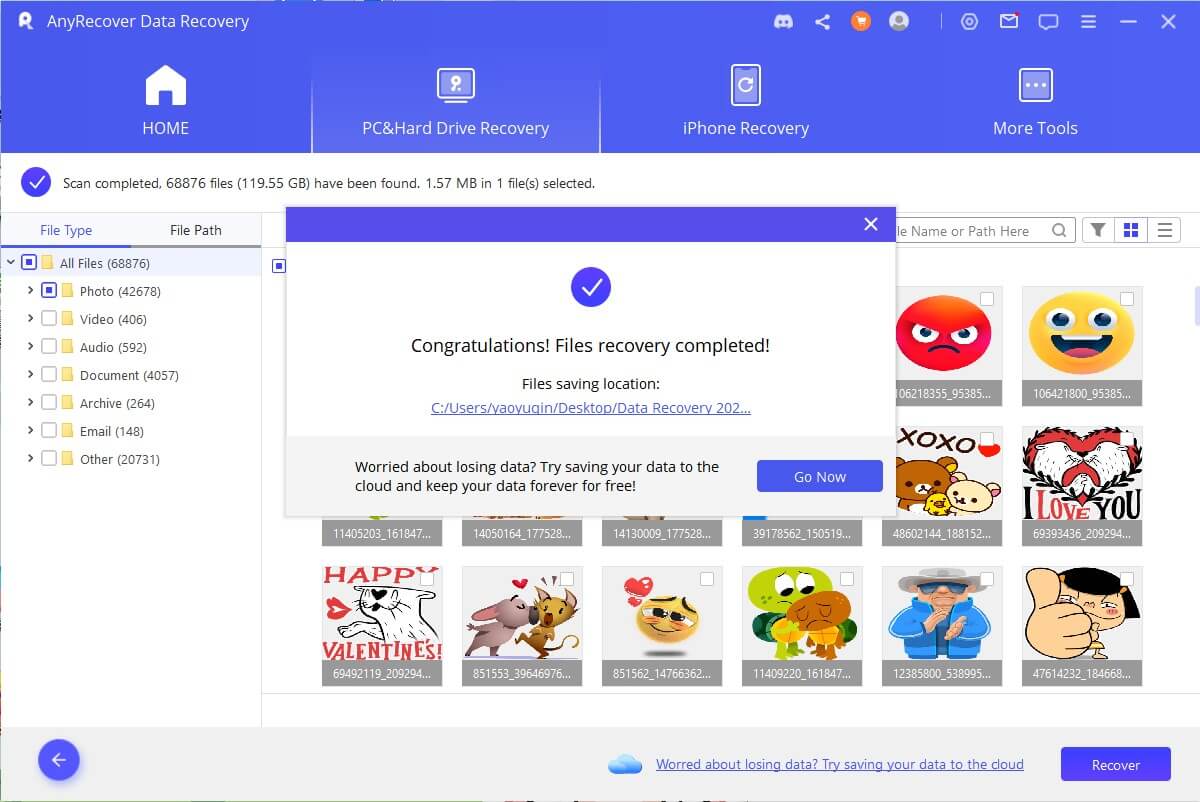 Bonus Tip: How to Move Firefox Bookmarks to Another Computer?
The only way to move your Firefox Bookmarks to another computer is through Firefox Sync. The sync feature allows you to synchronize your Bookmarks and other user data on all computers you use.
To enable Firefox Sync, you need to create an account. This can be done by clicking the Menu button and then the Signup option. Follow the signup process till the end and select the Sync and save data option.
From here, you only need to sign in to your account to use your Bookmarks on other computers.
Conclusion
The importance of Bookmarks to frequent internet surfers cannot be stated enough as they mostly hold important URLs. However, at times, bad luck strikes, and Firefox Bookmarks disappear.
This guide takes you through the possible steps to restore missing Firefox Bookmarks. Also, we have discussed the ways you can recover deleted Bookmarks in case of accidental deletion.
Lastly, this piece covers retrieval of permanently deleted Firefox Bookmarks backup folder. This can only be done with the help of professional data recovery software in the mode of AnyRecover software.