The RAW USB drive issue is very annoying and many users face it from time to time. What happens is that when USB drive gets corrupted, the size of the USB drive is shown as RAW file system. It makes your data stored on USB drive inaccessible. Fortunately, there are ways to recover files from raw drive.
1
Why Does USB Drive Become RAW?
RAW file system means that there is no valid file system associated with the USB drive. Following are some primary reasons why a USB drive becomes RAW:
System crash due to power outage. Frequent crashes can often lead to this problem.

Malware/virus directly attacking and corrupting the USB drive.

Electrostatic discharge. This is considered a hardware failure and it is difficult to avoid.

Unplugging the USB drive when it is in use can also corrupt its file system and turn it into RAW.

Changes to file system of USB drive via formatting can sometimes lead to this issue as well.
2
Best Software for RAW USB Drive Recovery
As mentioned above, it is possible to recover your lost/inaccessible data from a RAW USB drive. You will just need to make sure that a reliable data recovery software is available now. iMyFone AnyRecover will be your great choice for this. AnyRecover Raw USB Recovery Software has all the necessary features to help you recover your data from a RAW USB drive.
Capable of raw flash drive recovery. You can recover virtually all file formats via this software including photos, videos, documents, music, archives, and more.

AnyRecover supports all popular file systems such as NTFS, FAT, FAT32, etc.

Supports hard drives (internal & external), SD cards, digital cameras, flash drives, and more.

Powerful data recovery modes that are suitable for all data recovery purposes.

Preview recoverable data for a faster and more efficient selective file recovery.

Works well on various Windows (including the latest Windows 11) and Mac OS.
Steps to Recover Data from Raw USB Drive
Step 1. Plug your USB drive into your computer and launch iMyFone AnyRecover.
Step 2. Once the software is launched, select the Raw USB drive you want to recover data from under "External Removable Devices" tab.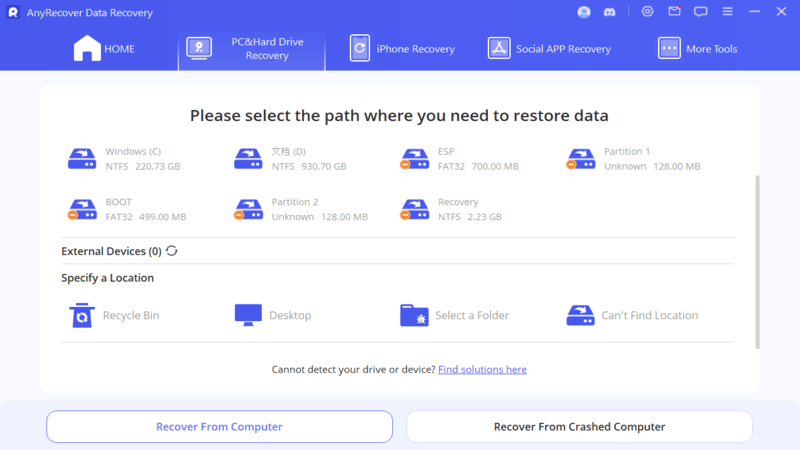 Step 3. Click on the "Start" button, AnyRecover will start an all-round scan on your selected drive.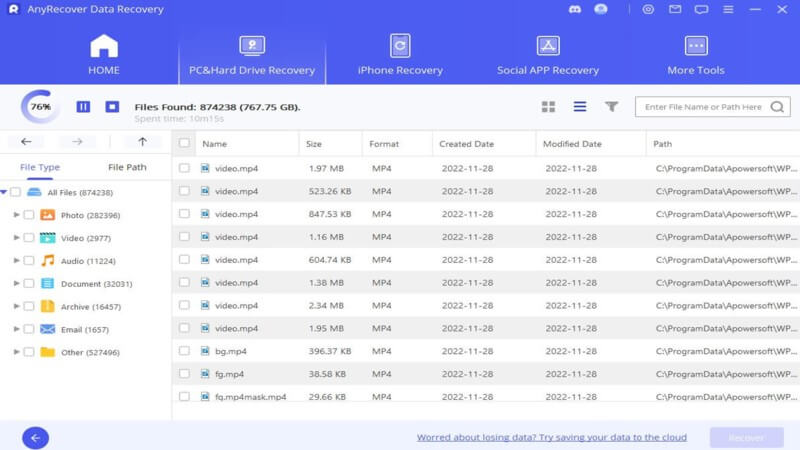 Step 4. Once done, all your lost files will be listed out, you can filter and preview the files via "Tree View" or "Files View"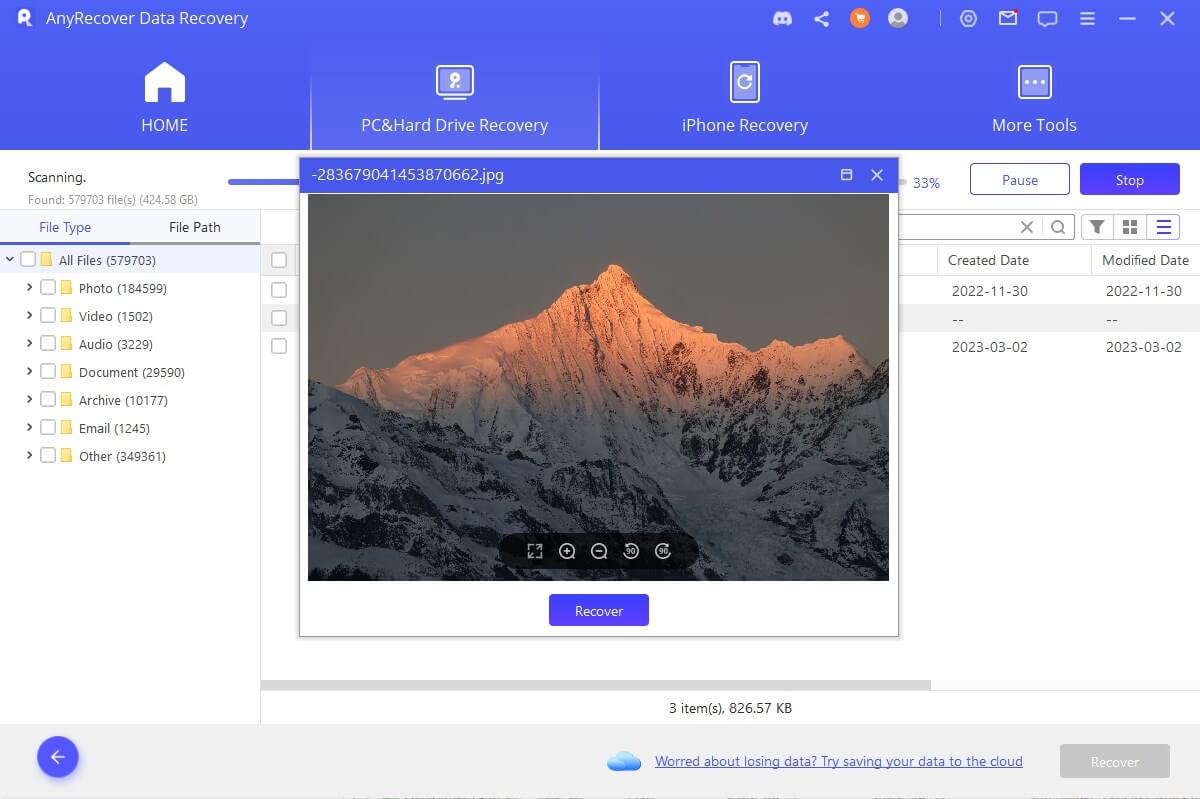 Finally, what you need to do is selecting those files you want and click "Recover" to get them back.
3
How to Fix RAW USB Drive?
Fixing the RAW USB drive problem is quite easy as you can do it without any third-party tools. You just need to make sure that you have recovered your important data from the drive before you attempt the fix.
1

Repair with Windows built-in Tool

Step 1. Connect your flash drive to your PC. Navigate to it via My Computer or This PC.

Step 2. Open Properties of the disk via right-click menu and then navigate to Tools.

Step 3. Once there, click the Check button.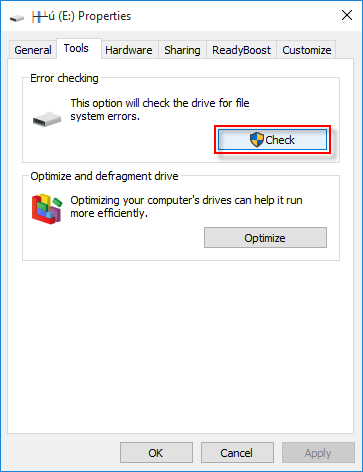 Step 4. For Windows 7/8/8.1 PC, you will see two different options on a popup window. Click on both checkboxes and then click the Start button for scanning.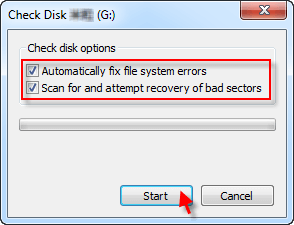 For Windows 10 PC, click Scan and repair drive.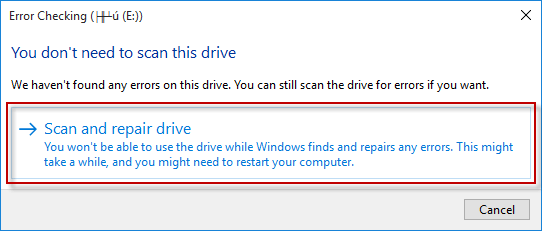 Then Windows will attempt to fix the problem.
2

Format the USB Drive

If the above-mentioned solution doesn't work, then it is recommended that you format the USB drive. Sometimes that is all that's needed to fix the RAW USB drive problem.

Step 1. Plug your RAW USB drive into your computer.

Step 2. Navigate to the drive via My Computer/This and right-click on it and then select the Format option.
Step 3. Now reset the file system and click the OK button to repair RAW USB drive and make its file system usable (FAT32/NTFS) again.
Note
The above-mentioned solutions will only work if the RAW USB drive is recognized by the operating system. If the problem is occurring due to a hardware malfunction, then it's suggested that you recover your stored data as quickly as possible with AnyRecover as the drive may stop working at any time.
Conclusion
In conclusion, if your usb drive becomes raw and the data on it are inaccessible, there are ways to get your data back. We introduced to you the best data recovery software and talked about effective ways to fix raw drive. Whenever you encountered the same issue, you'll no longer have to worry.