1. Can I test your software before purchasing?
Yes. We provide trial versions for all our programs. Trial versions usually have limited functionalities as compared to the full versions.
2. What are the limitations of the trial versions?
The trial version of AnyRecover allows you to scan and preview the recoverable files for free. If you are satisfied with the performance and capabilities of the software, then go ahead and purchase the full version to enjoy all the advanced features it has.
3. Is purchasing products safe from your website?
Yes. It is recommended that you purchase the software from our website because when you browse our website, place an order online, and/or download different products, your privacy is 100% protected.
4. How can I confirm that my order is processed successfully?
Once your order has been verified, AnyRecover order system will automatically send you an email and upgrade your account with the features. In case there is anything going wrong, please contact AnyRecover support to get help and we'll make a response to you within 24hrs.
5. How to cancel subscription?
Situation 1:
If the product you purchased needs an account ID and password to log into to activate, then it is a membership product. You can cancel the subscription with the following steps by yourself in the AnyRecover Memeber Center.
Step 1. Please log into the AnyRecover Member Center.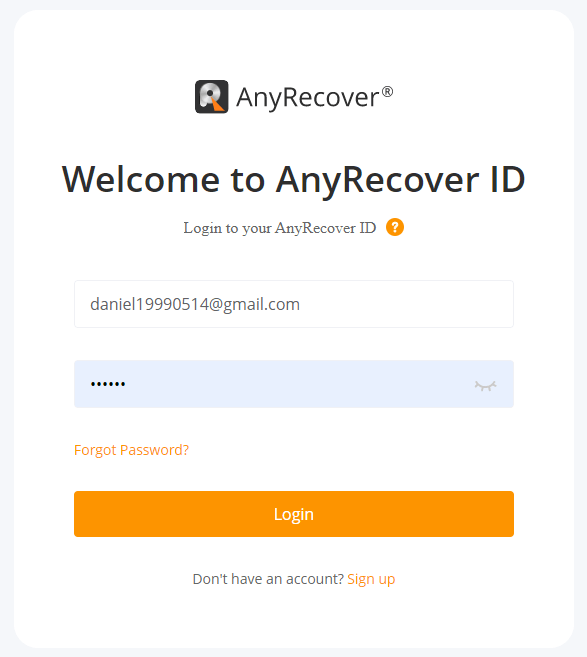 Step 2.
Please select
My Product
, and you will see all the products you purchased.

Step 3. Please choose the product that you want to cancel the subscription with and then click Cancel Subscription.

Step 4. Please click Get, then your account email will receive a verification code.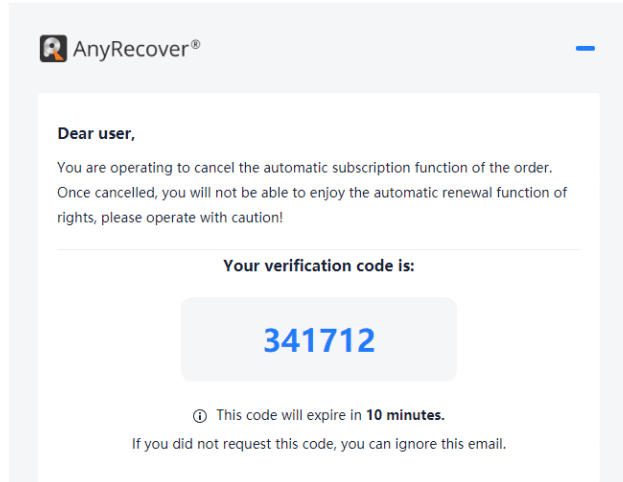 Step 5. Please enter the Verification Code and click Cancel Subscription Now. Then your subscription will be canceled.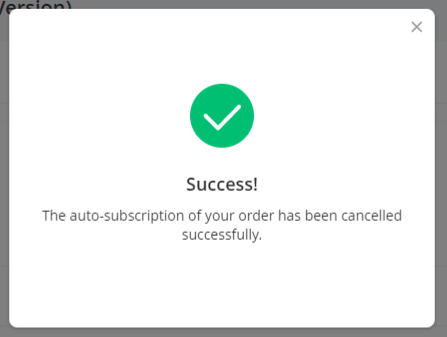 Situation 2:
If the product you purchased is not a membership product that needs a registration code to activate, then please contact our Customer Service to cancel the subscription for you.
6. I have purchased the wrong product, what should I do?
AnyRecover offers a free trial version. It is recommended that you first give the trail version a try before making a decision to purchase the full version.
7. What payment options are available?
Following are the payment methods available for our customers:
PayPal
MasterCard
Visa
American Express
Phone
Fax
JCB
Maestro
Discover
Diners
8. Why was I charged more than the price listed on the website?
We only charge the price that is listed on our website. Any extra charges are generally the tax fee that is applied when you place an order.
9. What is your license policy?
We provide three standard licenses: 1 Month License, 1 Year License and Lifetime License. The primary difference between them as the names suggest, is the length of time your license will be valid and you will be able to use the software. You can use 1 Month License for one month and use the software for up to one year with 1 Year License. Lifetime License has no expiry date.
Note: If you want a customized or business license, then please contact our Customer Service to help you.
10. If I purchase a license on 1 PC, will I be able to use the software on different computers?
It depends on the type of license that you have purchased. For example, if you have purchased the license for 1 PC, then you won't be able to use it on other computers. Similarly, if you have purchased license for 2-5 or 6-10 PCs, then you will be able to use the software on the specified number of PCs that the license permits. It is recommended that you update your license to 2-5 PCs or others if you want to use the software on different computers.
11. What is your after-sale service policy?
Customers who have purchased full version products will receive lifetime free upgrade service and support. If upgrading a software requires you to input a new registration code, then AnyRecover support team will inform you about it as soon as possible.
Please Note: Free items such as giveaway licenses don't support free lifetime customer service and lifetime upgrades.
12. Is it secure to purchase your products with a discount from other websites?
Although AnyRecover has many partners that might offer you our products at a discounted pricing, we cannot guarantee that their servers are as secure as our own. That's why it is recommended that you pay close attention to the website's security when you place an order. If you suspect that the website is not authentic, then contact us and we will check and verify it for you.
13. Why was I charged twice for one order?
There could be a number of reasons behind this. Following are some of the reasons this might occur:
1. There was a failed purchase before your order of AnyRecover got validated and it was charged as well. It is recommended that you contact the bank to remove this charge.
2. It might seem like that you have been charged twice due to the difference of displaying online statement. Sometimes pre-authorization and split settlements appear as separate items when you view an online statement, but that doesn't mean that you have been charged twice. The pre-authorization may seem different at first, but it will expire once the payment is confirmed.
3. It could be possible that you clicked the payment button twice when placing an order or there was a page refresh when your order details were being processed.
14. Can I get customer support when using a trial version product?
Yes. Regardless of whether you use a trial version or a full version product, you can contact us freely for support whenever you encounter any technical issue. If you drop us a line on our Community page, then you can expect to get a reply ASAP on weekdays. Refer to our Product FAQs and Support Center for frequently asked questions.
15. How to get a reply as soon as possible?
You can send feedback on our software or via email. It is recommended that you provide detailed information about your inquiry, such as system information, your operation steps, error messages, etc. Our team will reply to all inquiries ASAP.
16. Can AnyRecover access or does AnyRecover Server store the personal data on my device after using?
AnyRecover services provide help when it comes to recovering your lost/deleted data from personal computers and other storage devices. We don't collect or store any of the acquired data on our server. The data will be stored on your devices only. We won't have any access to it.