1. How does AnyRecover work?
Whenever you use the delete button on your computer, it will show the file as being deleted but allocates a portion of your drive to the file in the recycle bin. This file will remain in the recycle bin and can be brought back to its original state. But, the bad news is that your system will eventually reuse this space and also overwrite the pointer to the file, so the quicker you stop using your computer and run Anyrecover Data Recovery, the higher your chances of recovering your files.
What's more, even when you've emptied your recycle bin, Anyrecover can still help you recover the lost or deleted files.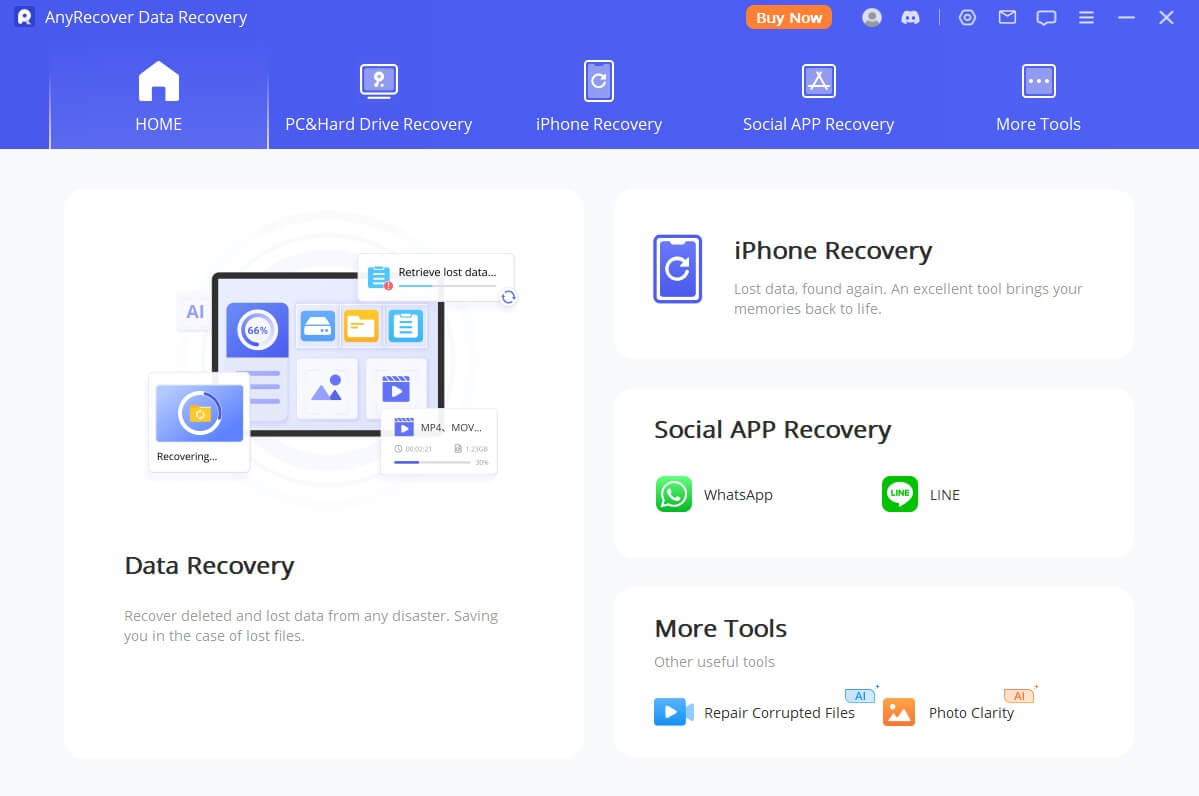 AnyRecover is a one-stop software which helps to recover and repair files in simple clicks. Its main functions are:
Recover from Hard Drive
Recover from any external storage devices like SD/SSD/HDD Card etc
Recover deleted files from Windows/Mac/iOS
Photo Restoration: photo AI repair, photo enhancement and clarify
2. I've deleted some files by accident, HELP!
Ideally, you should install AnyRecover before you need it. This is because some time will be needed to monitor your drives for deleted files as soon as possible. If you accidentally deleted an important file and you decided to go online to download AnyRecover (or download anything), during this process, a lot of temporary files can be created which can overwrite the memory space allocated to the deleted file and after you finished the installation, the deleted file was gone.
However peradventure, you have AnyRecover installed on your computer after you mistakenly deleted a significant file, all you need to do is to run AnyRecover and get your file back. Remember not to install the software in the drive where your file was lost.
You can download and install your own copy of AnyRecover here: Download AnyRecover for Win & Download AnyRecover for Mac.
3. What if the hard drive cannot be detected by my PC, can I recover data from it?
We are very sorry to say that if your hard drive cannot be read or detected by your computer, then absolutely there is NOTHING AnyRecover can do to extract data from it. The drive needs to be identified on your computer before any further action can take place. You need to send the hard drive for fix.
4. Why can't some files be previewed?
Although some files can't be previewed by the software, they still can be recovered. And for your convenience, below are some formats that can be previewed by AnyRecover for Win and Mac. You could move mouse to adjust the size of previewing or maximize the preview window.
For Mac:
Documents: TXT, XML, PLIST, RTF, XLSM, CSV, DOC, DOCX, XLS, XLSX, PPT, PPTX, PDF, HTML, KEY, numbers, pages, etc.
Pictures: JPEG, JPG, PNG, BMP, TIF, TIFF, ICO, CUR, SVG, ICNS, PBM, PGM, PPM, SVGZ, TGA, GIF, PSD, CRW, CR2, NEF, ORF, RAF, SR2, MRW, DCR, WMF, DNG, ERF, RAW, AI, HEIC, etc.
Audios: WAV, MP3, M4A, AIF, AIFF, etc.
Videos: M4V, MP4, MOV, 3GP, MPG, etc.
Emails: EXL, EMLX, etc.
5. Can the software recognize mobile phones?
Owing to the limitations of mobile phones' system, we are not allowed to directly access their hardwares. So the software can't recognize samrtphones. But if a SD card is inserted in your phone and the data lost has been saved in the card, then you could use AnyRecover to recover files. Before that, you are suggested to take out your SD card and then use the card reader to plug it into a USB port.
6. What if the software fails to recognize my drive or device?
In the "Devices & Drives" section, only the mounted partitions are displayed, i.e. the partitions you can directly see under "My Computer" or "This PC".
If you want to scan the hidden partitions, click the "Can't Find Location" option in the "Advanced Options" section. (Hidden partitions are those partitions that can't be found in "My Computer" or "This PC" but can be seen in "Disk Management".)
If it is an external hard drive that AnyRecover fail to recognize, maybe it's just because the external drive is not properly plugged in or it is damaged. In some cases, this may be due to a problem with your computer system. We, therefore, suggest carrying out the following to rectify the issue:
(a). Make sure computer recognizes and reads your external hard drive
(b). Unplug and re-plug the external hard disk
(c). Restart computer
(d). If the program still can't locate the drive on your computer, feel free to contact
support@anyrecover.com
If you want to scan a virtual disk, you need to mount it first.
To do that, go to Computer Management > Disk Management. On the right side, select More Actions > Attach VHD. Then click the "Browse..." button, and locate the .vhdx or .vhd file. Finally hit the "OK" button.
Note: AnyRecover isn't capable of scanning and recognizing smartphones.
7. Why some recovered files can't be opened?
The following reason may cause this issue:
The memory space allocated to the recovered file has been corrupted or overwritten. This may be due to the file storage mechanism which assigns a part of the Windows storage to your deleted files and overwrites them with other data over a period of time. This may tend to corrupt your recovered file.
8. Why can't drive be found by AnyRecover for Mac??
When your Drive can't be found by AnyRecover for Mac, we suggest you open the Disk Utility to check the status of the drive.
All the links to the devices will be listed under the Disk Utility and you will be able to know if the drive is damaged, listed or not.
9. Can you guarantee that I can recover a specific file?
Because data recovery from a computer storage system is linked to many factors, we CANNOT guarantee that you will be able to recover a specific file. The only thing we can guarantee is the fact that you can be able to verify it with AnyRecover at all times. Since each recovery case is unique, provision of a universal recipe can be very tasking. To increase your chances of recovering documents, we suggest you download AnyRecover even before you need it.
10. Why my camera doesn't show up after the connection?
Cameras may come with different file protocols which may not be recognized by AnyRecover. If you connect your digital camera to the computer through a cable and you discover that it is detected by your computer system, we suggest you turn on your camera. You can also try to pull out the memory card and insert it directly to the computer system port assigned to it.
11. What's the difference between free trial and full version?
The free trial version allows you to scan and preview the scanned files for free. If you can find your desired file, you can go ahead and purchase the full version for a total recovery of other files. After a successful payment, you will receive a registration email which includes your login email and password and a download link to the full version of the program.
Here is the comparison between free and full version: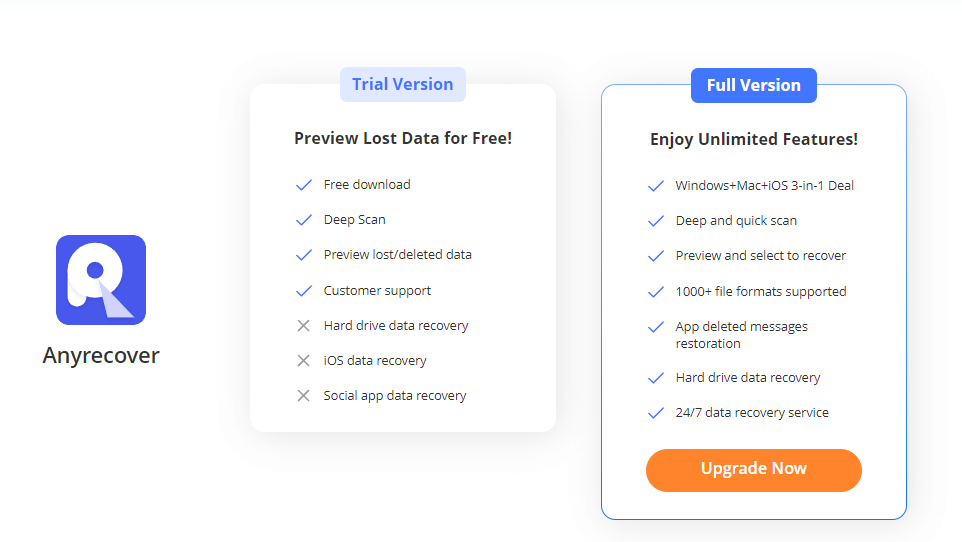 12. Can I recover the data deleted one year ago or even longer time ago?
Yes. Only files whose allocated memory space has not been overwritten can be recovered by AnyRecover. If you have data on your system lost for one year and the memory space allocated to it is not yet overwritten, then you can recover the files. The ability to recover a file is not based on its date of deletion but the availability of memory space allocated to it.
You can free download this software to deep scan and find your files. It is totally free to download,scan and preview.
13. What does RAW files mean?
If a file system is intact, a folder structure could be restored. If the file system is incomplete or corrupted, all files will be in the RAW Files folder and their original names will be removed, too. Files in the All RAW Files partition are found over file system, so their original names and dates are lost.
14. How long does a file recovery take?
As far as file recovery options are concerned, there are several factors that come into play to determine the amount of time needed for all files to be recovered.
Size of the drive: the larger the drive size, the longer it takes for AnyRecover to scan through and recover your deleted files. While smaller drives (usually less than 500GB) may take about 30 minutes to fully recover, larger drives (up to 1TB) may take hours and days.
Nature of the file: If the file is corrupted or damaged, it will also affect the total amount of time needed to recover the files.
If the scan is progressing, do not stop your scan because you feel it is taking too long to recover data from larger drives.
15. Can files be recovered from a formatted drive?
Absolutely YES! AnyRecover has the ability to recover files even from a formatted drive. This is, however, dependent on the level of formatting carried out on the drive. The formatting needs to be a file supported by AnyRecover (NTFS, FAT16, FAT32, exFAT, APFS, HFS+, HFSX ). If the drive has been previously erased before being re-formatted then, it may decrease the chances of being recovered.
16. How large does the hard drive I'm using to save recovered files need to be?
This totally depends on the size of all the files you are trying to save. If after a successful recovery, you discover that there are some recovered files that may not be useful to you. In most of the cases, the total amount of storage space required to save the recovered files may be far larger than your actual file size. The best option is to run filter out the files that are not useful to you in order to reduce the total amount of space needed for storage.
17. What to do if I stuck in the refreshing and loading page?
1. Remove all the external disks that are connected to your computer
2. Connect the disk that you want to recover files from
If the problem still exists, please contact us for support.
18. Why is the capacity of files scanned larger than that of actual disks?
This can be due to repeated formatting or the creation of many partitions that are then formatted into one partition. Of course, it could also result from abnormal files found.
Reasons for other specific situations can be understand only after a data analysis.
19. Does the software support Google cloud disk recovery?
It's worth noting that AnyRecover supports USB flash drives, digital cameras, camcorders, memory cards, MP3/MP4 players, SD cards, CF/SD/MMC cards and more devices. But we are sorry to tell you that it doesn't support Google cloud disk.
Your satisfaction is our top priority and we will try our best to improve our product.
20. Why do I need to enter the password of the disk before scanning?
If your disk is encrypted, our software cannot scan it. You need to enter the password of the disk before you can use the tool properly. Or you could disable Disk Encryption.
21. Why are photos recovered damaged or incomplete?
The reasons could be the loss, corruption or discontinual storage of data.
22. How to allow AnyRecover to access files and folders on Mac?
Why do you need to allow AnyRecover to access files and folders on Mac? The reason is that AnyRecover won't be able to find data on your removable devices or create a bootable media drive successfully without permissions.
Here is how to allow AnyRecover to access files and folders:
1. On your Mac, open System Preferences.
2. Go to Security & Privacy.
3. Click on the Privacy tab.
4. Select Files and Folders on the left sidebar.
5. Locate AnyRecover in the list of apps on the right, and then check the "Removable Volumes" option.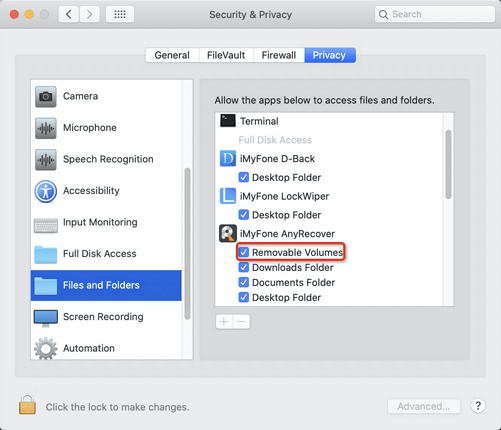 Now, you can start to scan data from your removable devices or continue to create a bootable media drive.
Note: AnyRecover Technology Co. Ltd. is committed to respecting your privacy. We won't access or store your personal data after you use our software.