Like most errors you encounter on Windows 11/10/8/7, the 0x80240fff error code is cryptic and doesn't hint at what the problem is, which can leave you very confused.
Thankfully, we're here to help. This article will help you understand what an error 0x80240fff message means and what to do if you encounter such an error. So, let's get to it.
Part 1: What Is Error 0x80240fff?
The Windows 10 error code, "0x80240fff", is associated with Windows update. Usually, this error message would pop up in the Windows update menu (located under Settings > Update & Security > Windows Update) if you're trying to check for updates manually. Other times, it may appear almost immediately if Windows experiences an unsuccessful automatic update check.
When faced with such a challenge, your primary concern should be securing your data. Therefore, it's important to ensure that you secure your data before taking any other measures. One quick-fire way to avoid data loss in such a situation is to perform a backup or you could recover data with the method discussed in part 4.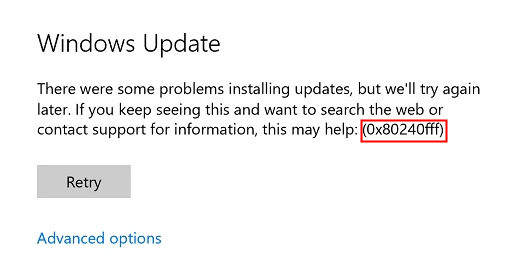 Part 2: How Do I Fix Error 0x80240fff?
Here are some things that you can do if you notice that Windows won't work due to an error 0x80240fff alert.
Solution 1: Check Network Connection
After successfully backing up your data, the next step is to check your internet connection. Locate the network icon at the lower right corner of your Windows 10 desktop screen to verify your current network status. Through this, you can verify if your network adapters are enabled and detected or if you're in range and (or not) connected to any networks.
Please ensure that you have a stable network connection before proceeding with Windows update checks.
Solution 2: Disable VPN
Enabling a VPN connection on your computer typically affects all of its connections. As such, there's a chance that your VPN connection might be interfering with Windows update checks. So, if the above measure has failed at resolving your error 0x80240fff issue, and you have a VPN connection enabled on your computer, then turning it off before trying to check for updates again might help.
There are 2 options to go about this.
Option 1: Use a VPN Client
This option allows you to disable your VPN connection using a VPN client. To do this, simply:
Launch your VPN client.

Ensure that you have disconnected from any VPN server connections.

Right-click on your VPN client's tray icon.

"Close" the app from the VPN client's tray icon menu.
Option 2: Manually Disable VPN Connections on Windows 10
Launch your Settings app on your Windows 10 computer.

Locate the Network & Internet tab.

On the left-hand menu, you'll find the VPN category. Select it.

Information will be displayed concerning the various VPN connections on your device. Select the one(s) you wish to turn off.

Click Disconnect to disconnect from the desired VPN. Click Remove to delete the VPN service from the device if you want to delete it from the device completely.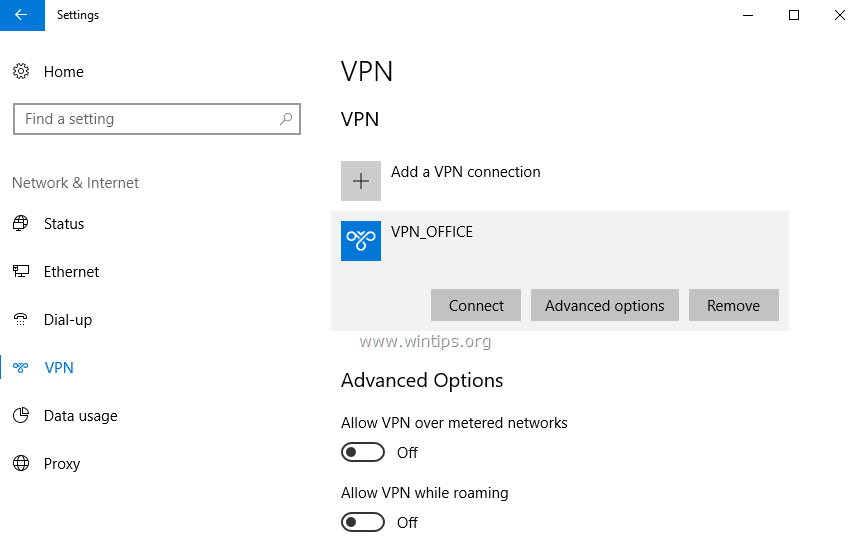 Solution 3: Defer Windows Update (Pro Users)
This option will postpone Windows 10 update by deferring windows upgrades. However, it can get rid of the Windows 10 update error 0x80240fff in the system. Afterwards, you can download and install Windows 10 updates to your PC manually. Here's how to go about it.
Go to Settings > Update & Security > Windows Update settings.

Select Advanced options at the bottom of your screen.

Select Defer Upgrades.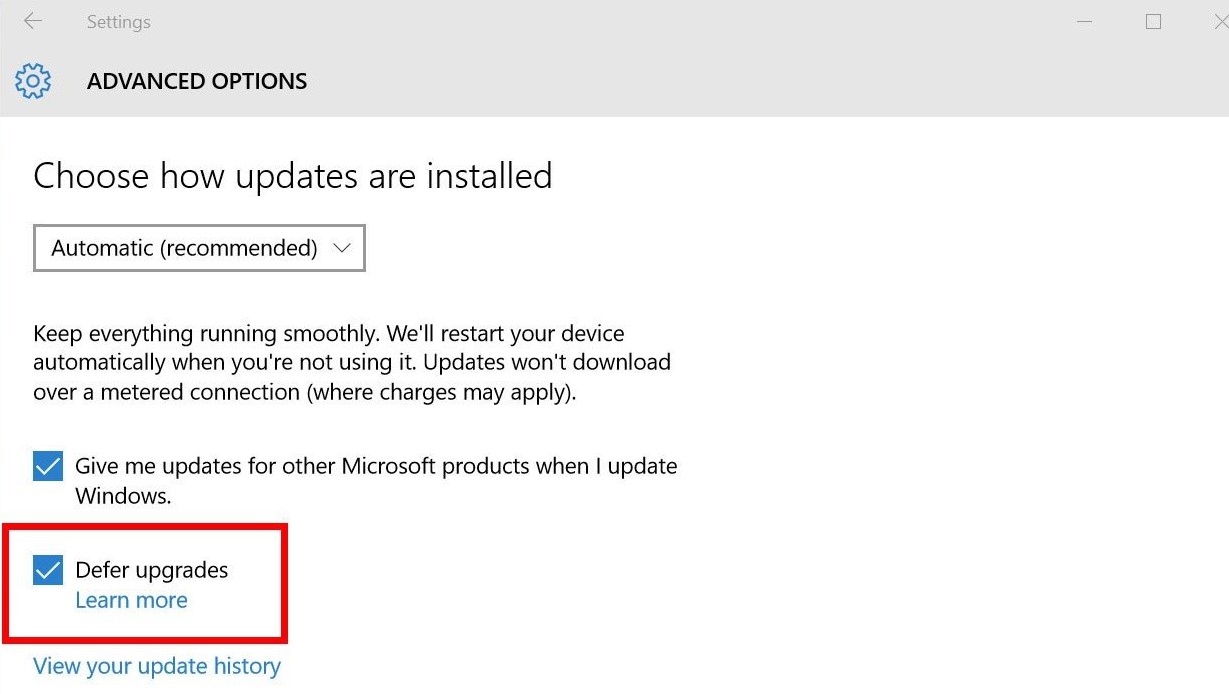 Solution 4: Use Media Creation Tool to Manually Update (Home Users)
This option is available to Windows Home users and effectively resolves 0x80240fff errors associated with Windows update. You can utilize it by using your Windows Media Creation tool. To achieve this, use the following steps:
Restart your computer, check and ensure that your internet connection is stable.

Ensure to close all open files and apps, go to Store on your Windows device.

Download Windows Media Creation tool from your Windows 10 Store.

Accept the terms and conditions.

Click Upgrade this PC.

Once the download is complete, Windows will begin the installation of Windows 10.

Select the option Change what to keep in the following window after installation is complete.

Check again to ensure that no apps or files are open, select Install.

Wait until the installation is complete. (Your computer may reboot several times. This is normal.)
Solution 5: Run Windows Update Troubleshooter
This method is another effective option for eliminating error 0x80240fff issue, especially where the other options have been unsuccessful. This option mainly verifies three things, network adapter functionality, your system's internet connectivity and whether or not your computer's Windows update service is running.
Here's how to go about using your Windows update troubleshooter to resolve error 0x80240fff issues.
Ensure that your computer's internet connection is set correctly and stable.

Open your Control Panel

Type in "Troubleshooter" in the search box.

Click on the option Troubleshooting.

Find the option, System and Security.

Click on Fix problems with Windows Updates.

Restart computer.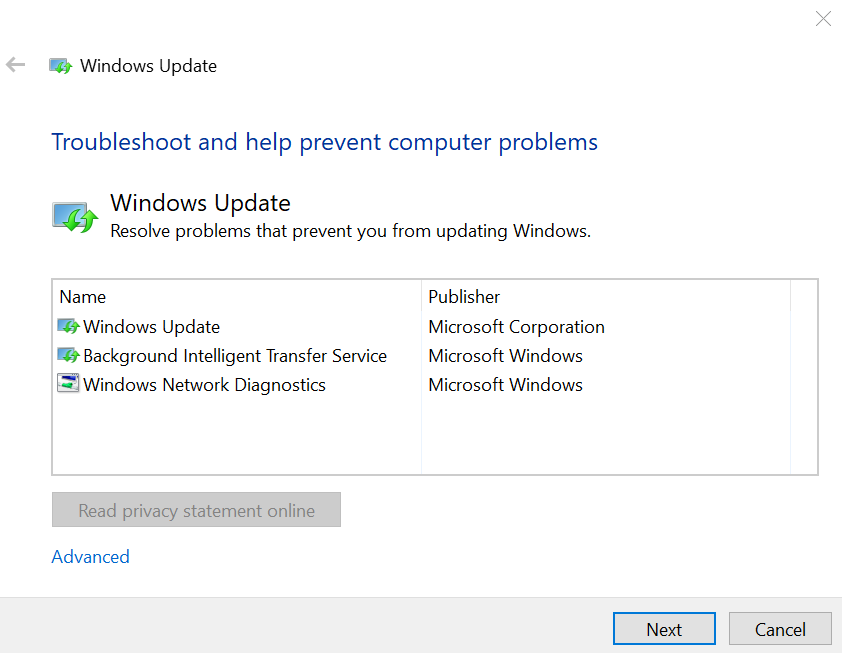 Solution 6: Restart Background Intelligent Transfer Services
Background Intelligent Services are instrumental in resolving a broad range of Windows issues, including error 0x80240fff. However, if other options are still unsuccessful in resolving the problem, you may try using Background Intelligent Transfer Services (BITS). Here's how to go about it:
Use the shortcut Windows key + R, and then type "services.msc" in the proceeding text box.

Locate Background Intelligent Transfer Service (BTIS) on the list of options displayed.

Right-click on Background Intelligent Transfer Service (BITS).

Click on Properties.

On the General tab next to Startup Type, ensure to select the option Automatic (Delayed Start) if it isn't already selected. Afterwards, click Apply.

Afterwards, check to see if the Service Status has started. If not, click Start.
Solution 7: Run CMD
This option allows you to access your command prompt and utilize it to scan and fix system issues. Below are two sets of command options you can initiate to resolve Windows 10 Update error 0x80240fff problems.
Access the Windows Search box on your Windows device.

Type in "cmd".

At the following prompt, select Run as Administrator.

In the proceeding command prompt, type or paste the following command: "SFC/SCANNOW". (hit the enter key to run the command.)

SFC scan will begin to search for potential errors in your computer. After they are detected, it will begin to fix them automatically.

When fixing is complete, restart your computer.

Try to install the Windows updates again.
Solution 8: Reset Windows Update Components
This option lets you reset Windows Update components. It is available for the Admin. To get started, use the following steps:
Go to search box, type "cmd" and select Command Prompt (Admin).

Click Yes (Run as administrator) on the proceeding prompt when asked for permissions.

Stop the MSI Installer, Cryptographic, BITS, and Windows Update Services by inputting these commands, net stop wuauserv, net stop cryptSvc, net stop bits, net stop msiserver. (Hit the Enter key after each command.)

Rename the Software Distribution and Catroot2 folder by typing the commands in the command prompt, "Ren C:WindowssoftwareDistributionSoftwareDistribution.old" and "Ren C:WindowsSystem32catroot2Catroot2.old". (Ensure to hit the Enter key after each command.)

Restart your BITS, MSI Installer, Cryptographic, and Windows Update Services. In the Command Prompt, input the following commands, net stop wuauserv, net stop cryptSvc, net stop bits and net stop msiserver. (Ensure to hit the Enter key after each command.)

Close Command Prompt and try to run Windows updates again.
Part 3: FAQ: Why Does Error 0x80240fff Happen During Windows Update?
There are several reasons why you may come across an 0x80240fff error during your system's Windows update. Some common causes include:
A malfunctioning firewall.

Damaged Windows update service.

If your system is outdated in terms of updates and so on.

Internet connection issues.

Windows 10 build 10240 is more susceptible to encountering error 0x80240fff.
Bonus: How To Recover Data After Windows 10 Update Failed?
In case you lost some files or the Windows update deleted everything, iMyfone AnyRecover is a professional data recovery tool that lets you recover lost files and data easily. It is an all-inclusive recovery solutions including deleted file recovery, recycle bin recovery, formatted device recovery, damaged hard drive recovery, lost partition recovery, raw recovery, computer crash recovery, other data loss scenarios.
Key Features of AnyRecover:
Recover deleted/lost files due to spyware/malware/virus, Windows update/reinstallation, hardware failure, etc.

Recover files of any kind, such as videos, photos, emails, archives, documents, etc.

Recover data from various devices, like cameras, USB flash drives, SSDs, SD cards, etc.

Preview specific recoverable files to enable you to recover them selectively.

Enjoy a user-friendly interface and experience, as well as a fast data scanning algorithm.
Note
With high recovery rate and fast files scanning speed, users are allowed to recover 8 files with no size limited for free.
Steps to Recover Data After Windows 11/10 Update Failed with AnyRecover
Step 1 Launch iMyfone AnyRecover. Run the program and select the desired place. Click Start to find data.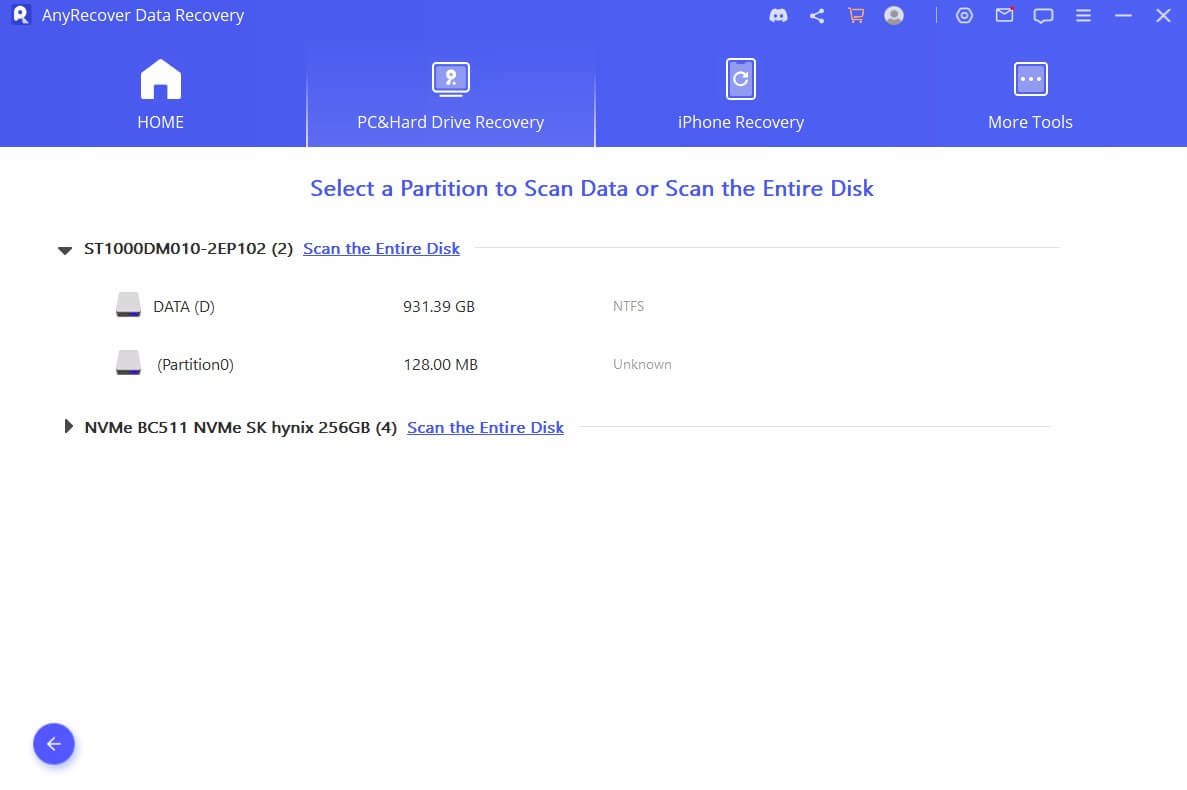 Step 2 The scanning process will begin. You could use search function to locate your files when you pause the process.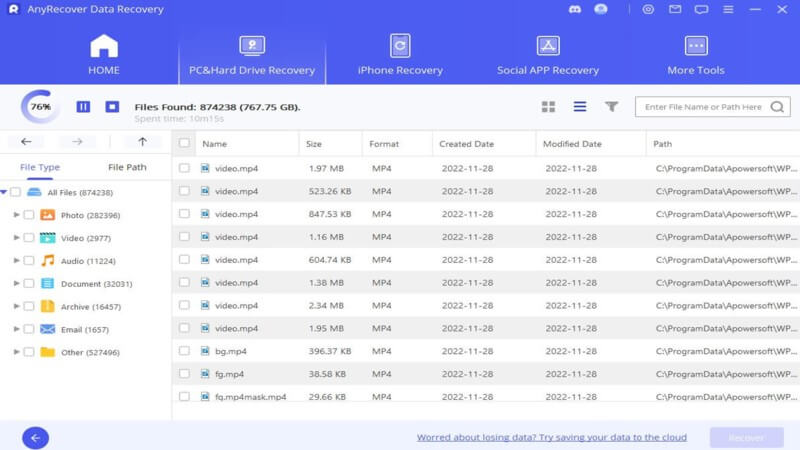 Step 3 Once scanning finishes, check and preview your files. Afterwards, recover your lost files by clicking the Recover button.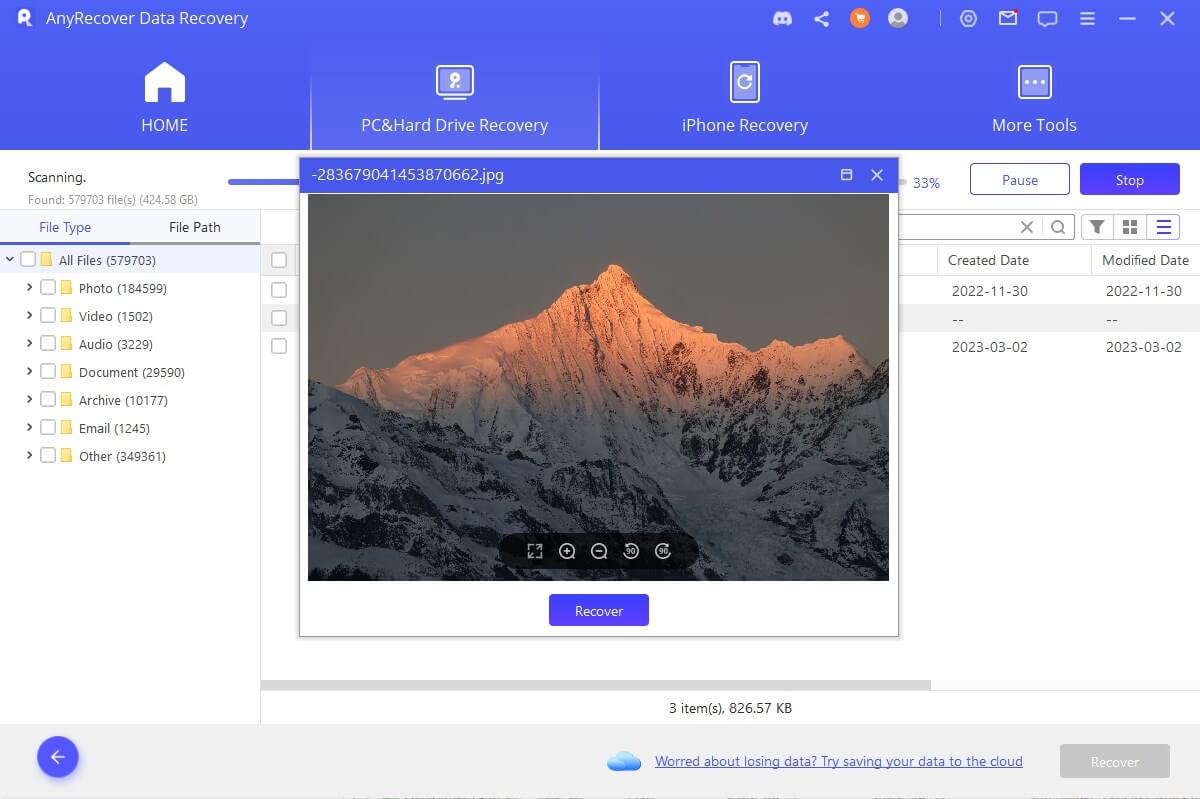 Conclusion
Our computer devices are susceptible to encountering different errors, including the Windows 11/10 update error 0x80240fff. Several things can be responsible for this error. If you encounter it, use any of the fixes highlighted above. You may also experience data loss as a result of a 0x80240fff error. However, you can integrate the expertise of professional data recovery tools like AnyRecover to retrieve lost data from your Windows device.