When a .pst file gets corrupted, all your data stored in it basically becomes inaccessible. The .pst file cannot be opened in Outlook or any other software and the only solution to get it working again is to repair it. Fortunately, there are a number of ways to fix this problem.
How to Fix .pst File Cannot Be Opened?
1

Outlook Cannot Open .pst File? Fix with ScanPST.exe

You can try the inbox repair tool - scanpst.exe to fix this issue. Depending on the version of Outlook installed on your computer, you will need to look into the following folders to find the ScanPST.exe:
Outlook 2007: C:\Program Files (x86)\Microsoft Office\Office12

Outlook 2010: C:\Program Files (x86)\Microsoft Office\Office14

Outlook 2013: C:\Program Files (x86)\Microsoft Office\Office15

Outlook 2016: C:\Program Files (x86)\Microsoft Office\root\Office16

Outlook 2019: C:\Program Files (x86)\Microsoft Office\root\Office16



Steps to Repair PST via ScanPST.exe
Step 1. Close Outlook if it is opened. Then navigate to the relevant folder listed above depending on your Outlook version to find and launch ScanPST.exe.
Step 2. Once it is launched, browse to find and select the corrupted PST file that you want to repair. Then click on the 'Repair' button to initiate the PST file repairing process.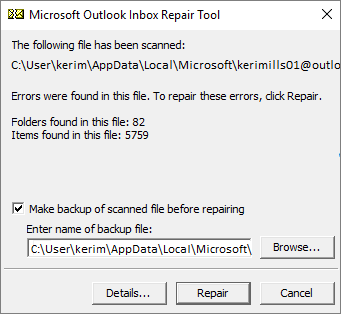 Step 3. Once the repairing process is complete, launch Outlook and create a new PST in your profile.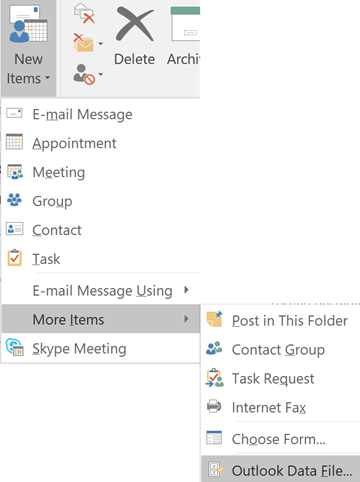 Step 4. The recovered items will be present in 'Lost and Found' folder, navigate to it and drag the recovered items to your new PST file that you have just created.
Step 5. After copying the recovered items to the new PST file, save the PST to store the information.
Step 6. These steps apply to Outlook 2010 and later versions. If you have an older version of Outlook, then replace step 2 with "Navigate to Tools > Options > Mail Setup > Data Files". The other steps are the same.
Limits of This Method
You can only repair a PST file up to 2GB size.

There is a risk of data loss during the repairing process.
2

Outlook Data File Cannot Be Opened? Fix with ScanOutlook

If ScanPST.exe didn't work for you, then it is recommended that you use a third-party Outlook repair tool which is far more powerful than scanpst.exe.

iMyFone ScanOutlook is one of such repair tools. It uses advanced algorithms to scan and look for recoverable data within corrupted Outlook data files (.pst & .ost) and recovers all the components then restores them into new usable PST file.
Steps to Fix This Issue
Step 1. Open  iMyFone ScanOutlook on your computer. And navigate to the corrupted/damaged PST file.
Step 2. Once the required PST file is selected, click on the "Repair" button. After repair, you'll be able to preview the data in the pst file.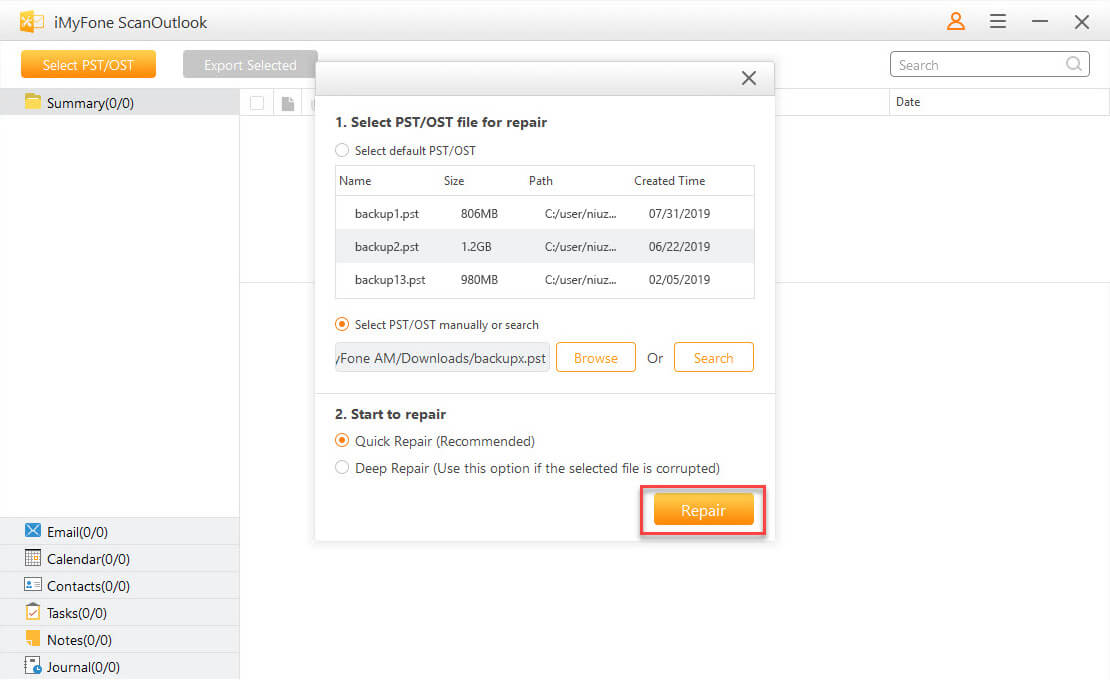 Step 3. Now click on "Export Selected" to save the data of the corrupted PST file that you want.
Step 4. Choose the desired format for saving. You can also choose the Destination Location for the new file by using the Browse button.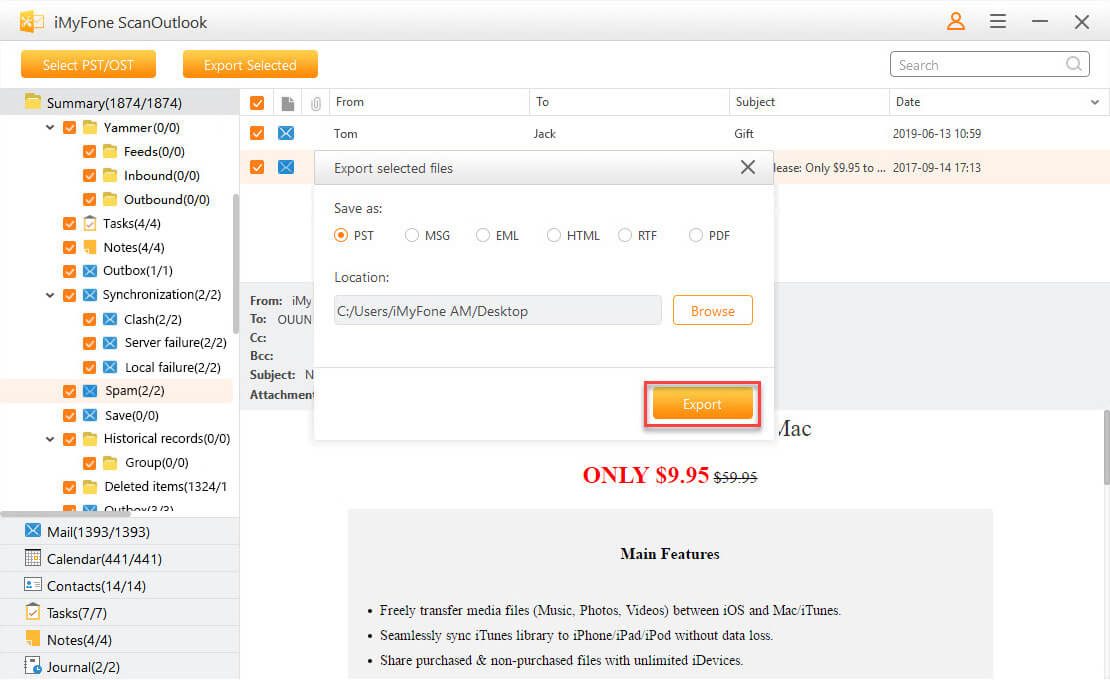 3

Modify PST File Properties

This is a potential quick fix for the 'PST file cannot be opened' problem. You may be encountering this problem due to system permissions which can be changed via the file properties.
Steps to Modify PST File Properties
1. Navigate to the PST file that you cannot open and open its Properties via the right-click menu.

2. Uncheck the 'Read only' box and confirm your action by clicking the OK button. Then try to open the file.

3. If the PST file still cannot be opened, then launch its Properties again and navigate to Security > Edit, then click on the Add button and type Everyone. Also, make sure that the Full control checkbox is checked.

4. After the above configuration, open the PST file via Outlook. It should open without issues.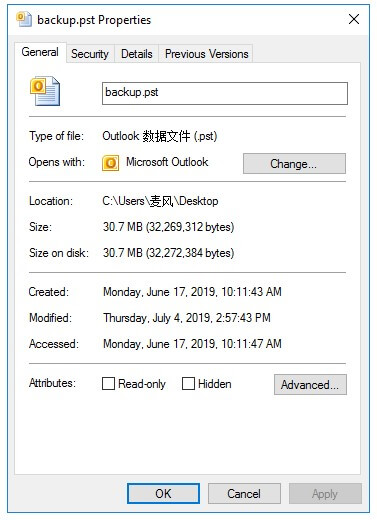 Conclusion
There are several ways to repair "cannot open .pst file" issue. Choose what you are prefer from the above methods. According to the feedback from our users, ScanPST.exe as well as modify PST file properties cannot work most of the time. To avoid such an embarrassing issue, you can have a try at iMyFone ScanOutlook.